Age

: 17


Height

: 5'4"


Weight

: 115 lbs


Species

: Human

---

Faction

: Pirates


Crew

: N/A


Ship

: N/A


Crew Position

: N/A

---

Devil Fruit

: Mera Mera no mi

---

Haki Level

: 1

---

Attack (ATK)

: 280


Defense (DEF)

: 280


Reflex (RX)

: 300


Willpower (WP)

: 120

---

Level

: 40


Experience Points

: 4000


Bounty

: 70,000,000
Berries : 50,000

---

Posts

: 15

---
on Fri Jul 08, 2016 11:56 pm
The Sun Rider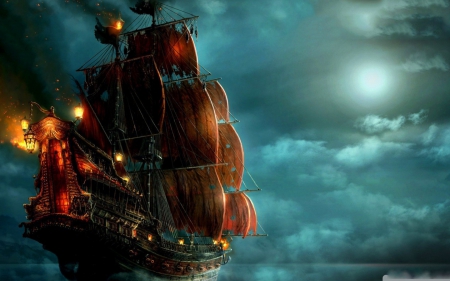 ---------------------------------------------------------------------------
Appearance
Ship Name:
The Sun Rider
Ship Class:
Galleon
Ship Crew:
Silver Flame Pirates
Ship Description:
In contrast to its dark colored wooden haul, the sail masts of the Sun Rider a red-orange color that look like flames from afar. Each sail mast has the Silver Flame Pirates insignia onto them, which signifies the ship as belonging to their crew. There is a total of seven large sail masts on the ship, three in the very front, one on top of the other, another set of them stacked on top of one another behind the first three, and one behind those. Incidentally, the furthest back sail mast does not have the crew's insignia painted on it. The middle mast at the top of the highest sail, sits the crow's nest for the navigator and sniper to use depending on the situation at hand. The galleon ship's weight is around 270 tons and has up to five master bedrooms, plus the Captain's quarters. It also has a good sized, fully equipped kitchen, a large upper deck area, a lounge room below deck that has plenty of comfy seating as well as some tables and a cabinet to keep an assortment of games in. Each bedroom is left empty and the walls white, so that they can be completely customized and decorated to each occupants preferences.
In the kitchen, there's a black all gas stove that is equipped with a double oven. In front of the stove and ovens, there's a granite counter top island for prepping food. On the other side of the island, is a large stainless steel sink for washing dishes as well as washing ingredients prior to prepping them. Next to the sink, is a large stainless steel refrigerator and freezer for storing certain ingredients. Next to the fridge, is a large wood cupboard to store perishable ingredients.
If you walk out the double doors next to the stove, you'll find yourself in the lounge room where the crew usually enjoys their meals together unless they choose to eat in their rooms instead.
There are two bathing rooms in total on the ship, one for the captain's use only(unless she permits someone else to use it as well) and the crew bathing room. Where all crew members can do their business or get squeaky clean.
Captains Quarters:
As for Mari's room on board the Sun Rider, it is the largest living quarters on the ship. In the back corner, perpendicular to the wall with the door, there is a large canopy bed, that has dark purple silk comforter, with matching silk pillow cases and silk sheets underneath. The canopy part, is a semi-transparent material that is soft to the touch. on the other side of the room, there is a large dark oak wood desk that is in front of a good sized boom case, packed full of not only books put map parchment, and map charting tools and the like. On top the desk, there are more map charting tools neatly organized. In the middle of the desk, you can find a sizable stack of blank map parchment papers, stacked neatly.
Between the canopy bed and the desk area, on the wall, is a red brick fireplace with a chimney like stack that leads up for a vent that allows the smoke from a fire in the fireplace to escape the ship. In front of the fire place is a super comfy and soft love seat for lying down in to watch a crackling fire while curled up with a good book.
Around on the walls of the room, there are multiple display shelves with small little knickknacks of different varieties. Such as; a ship in a bottle on one shelf, and a little trinket box in the shape of a flame, painted with a silvery paint that looks somewhat shiny on another shelf. Among other little items that Mari had procured on her travels.
---------------------------------------------------------------------------
Combat Capabilities
Tier:
3
Hull:
 350
Sails:
350
Cannons:
200
Tier 3 Bonus: 650|900
Mods:
N/A
---------------------------------------------------------------------------
________________________________________________________
---




Name

: Gray Starks


Epithet

: The Conqueror (Formerly "Black Fist")


Age

: 49


Height

: 10'2" / 310 cm


Weight

: 1043 lbs / 473 kg


Species

: Human Cyborg

---

Faction

: Pirate


World Position

: Super Veteran (Former Yonkou)


Crew

: Black Fist Pirates (Destroyed)


Ship

: Sangria's Vane (Destroyed)


Crew Position

: Captain (Former)

---

Devil Fruit

: Pressure-Pressure Fruit

---

Haki Level

: 9

---

[[haospec]][[busospec]][[kenbunspec]]

---

Hitpoints (HP)

: 700


Attack (ATK)

: 750


Defense (DEF)

: 600


Reflex (RX)

: 655


Willpower (WP)

: 600

---

Level

: 100


Experience Points

: 10000


Bounty

: 5,000,000,000


Income Multiplier

: +10%


Shop Discount

: -20%
Berries : 25,000,000,000

---

[[strollingdeath]][[baneoftheweak]][[riseandshine]][[freakofnature]][[childofdestiny]]
[[punchoutguru]][[windcaller]]

---

[[atkt6_sp]][[deft6]][[rxt6]][[wpt6]]

---

Posts

: 2093

---
on Sat Jul 09, 2016 9:17 am
See? You did wonderfully without any requirements~ Forgive me if you didn't want this approved yet (Just PM me if that is the case).
Mari Kuribayashi wrote:

The Sun Rider

---------------------------------------------------------------------------

AppearanceShip Name:

The Sun Rider

Ship Class:

Galleon

Ship Crew:

Silver Flame Pirates

Ship Description:

In contrast to its dark colored wooden haul, the sail masts of the Sun Rider a red-orange color that look like flames from afar. Each sail mast has the Silver Flame Pirates insignia onto them, which signifies the ship as belonging to their crew. There is a total of seven large sail masts on the ship, three in the very front, one on top of the other, another set of them stacked on top of one another behind the first three, and one behind those. Incidentally, the furthest back sail mast does not have the crew's insignia painted on it.  The middle mast at the top of the highest sail, sits the crow's nest for the navigator and sniper to use depending on the situation at hand. The galleon ship's weight is around 270 tons and has up to five master bedrooms, plus the Captain's quarters. It also has a good sized, fully equipped kitchen, a large upper deck area, a lounge room below deck that has plenty of comfy seating as well as some tables and a cabinet to keep an assortment of games in. Each bedroom is left empty and the walls white, so that they can be completely customized and decorated to each occupants preferences.

In the kitchen, there's a black all gas stove that is equipped with a double oven. In front of the stove and ovens, there's a granite counter top island for prepping food. On the other side of the island, is a large stainless steel sink for washing dishes as well as washing ingredients prior to prepping them. Next to the sink, is a large stainless steel refrigerator and freezer for storing certain ingredients. Next to the fridge, is a large wood cupboard to store perishable ingredients.

If you walk out the double doors next to the stove, you'll find yourself in the lounge room where the crew usually enjoys their meals together unless they choose to eat in their rooms instead.

There are two bathing rooms in total on the ship, one for the captain's use only(unless she permits someone else to use it as well) and the crew bathing room. Where all crew members can do their business or get squeaky clean.

Captains Quarters:

As for Mari's room on board the Sun Rider, it is the largest living quarters on the ship. In the back corner, perpendicular to the wall with the door, there is a large canopy bed, that has dark purple silk comforter, with matching silk pillow cases and silk sheets underneath. The canopy part, is a semi-transparent material that is soft to the touch. on the other side of the room, there is a large dark oak wood desk that is in front of a good sized boom case, packed full of not only books put map parchment, and map charting tools and the like. On top the desk, there are more map charting tools neatly organized. In the middle of the desk, you can find a sizable stack of blank map parchment papers, stacked neatly.

Between the canopy bed and the desk area, on the wall, is a red brick fireplace with a chimney like stack that leads up for a vent that allows the smoke from a fire in the fireplace to escape the ship. In front of the fire place is a super comfy and soft love seat for lying down in to watch a crackling fire while curled up with a good book.

Around on the walls of the room, there are multiple display shelves with small little knickknacks of different varieties. Such as; a ship in a bottle on one shelf, and a little trinket box in the shape of a flame, painted with a silvery paint that looks somewhat shiny on another shelf. Among other little items that Mari had procured on her travels.

---------------------------------------------------------------------------

Combat CapabilitiesTier:

3

Hull:

 350

Sails:

350

Cannons:

200

Tier 3 Bonus: 650|900

Mods:

N/A

---------------------------------------------------------------------------
Permissions in this forum:
You
cannot
reply to topics in this forum