Sabian McQueen
---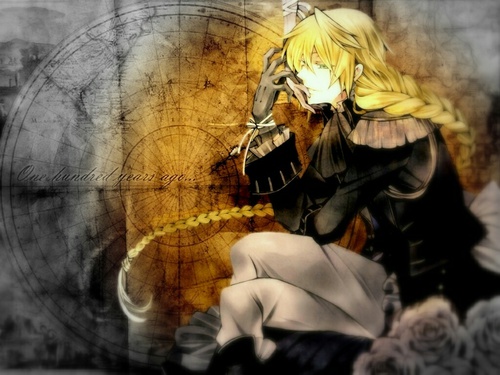 Basic Character Information
---
Starting Bonus:
Be A Dinosaur |
[Starting Bonus Roll]
First Name:
Sabian
Middle Name/Initial:
T.
Last Name:
McQueen
Epithet:
The Sunflower of the Revolution | LockJaw
Age:
28
Gender:
Male
Race:
Human
Faction:
Revolutionary Army
Profession:
Artist | Sculptor | Painter  
---
Physical Appearance
---
Height:
6'3
Weight:
220 lbs
Hair Style:
Ponytail
Hair Color:
Blonde
Eye Color:
Emerald
Scars:
Various Across His Body
Clothing and Accessories:
McQueen wears white skin-tight pants with a long green and gold sailor's coat and a white ruffled blouse. Sabian's long golden hair is braided and reaches down to his thighs. He has long golden eyelashes and emerald eyes which he uses to charm the superficial and weak minded women who gawk at him in hoards.
He wears white gloves over his hands, vowing to never use his hands for fighting or immense physical labour and in most instances is shown with a pair of equestrian white and black boots. McQueen also has a pair of transparent earrings that change color much like how a mood ring would, dependent on his mood every color represents a spectrum of emotions from anger, joy and sadness to name a few.
Description:
Physically, McQueen is in peak physical condition. The terminology 'army strong' is one that he prides himself in being referenced with. Having spent most of his childhood in poverty, he'd prioritised using his time in finding food and shelter most days. Within the army's care, McQueen's passion in martial arts has resulted in a well sculpted body, much like his own clay works.
---
The Past
---
Main Traits:
Bubbly, Charismatic, Energetic, Hot Headed, Dumb Blonde, Brash, Chivalrous, Hero Complex and Kind
Likes:
Women, Martial Arts,The Supernatural, Fighting, Sugar Cane, The Color Green and Freedom
Dislikes:
Slavery, Nobles & The Concept of Nobility and Alcohol
Unique laugh:
Bila-haha
Hometown:
Ilusia Kingdom
Personality:
Clumsy, Obnoxious and Uncivilized are a few adjectives that can be used to describe McQueen in a nutshell. Despite his princely good looks and attire, he's pretty much a menace in society's eyes. Unable to read or write very well, his street smarts and unique personality is what usually gets him out of tight spots.
Despite all of this, Sabian has a heart of gold. He's always making sure everyone around him is stable, always the last to eat, always the first to pray and throw in a few outbursts in between defending the weak from oppression and you have our hero. When it comes women, Sabian is a gentleman at all times. His clumsiness also seemingly disappears in these interactions and a sauveness emerges. The more beautiful the woman, the more smooth his words and actions get, sickening really.
In combat, Sabian's presence changes, the silly and happy-go-lucky artist believes that a fight between two people should be something that is cherished. Unable to convey his feelings through words most times, exchanging
fists
kicks with someone is the perfect way for him to get a gauge on a person's creed. One vital point must be remembered about the man's fighting style, he refuses to use his hands to fight, resorting to a majority of his attacks being geared around kicks.
'My hands are god's gift to art.'
- Sabian T. McQueen
History: