THE CONQUEROR'S WAR
---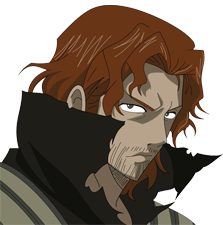 20 years after the Pirate King's dying declaration, the seas were slowly simmering. Many pirates who had once sailed in the hopes of finding One Piece, were now giving up to despair and hopelessness.
Then, to drive the nail in the coffin, the Navy found and imprisoned the wife and former first mate of Marsh, Ana D. Mire, who had hidden away from the world.
Hearing this news, one of the crew members of the original Soaring Pirates, who had now gone on to become a Yonkou, one of the four emperor pirates ruling over the New World, went on a rampage. The name of this pirate was
Gray "Black Fist" Starks
. Along with his crew, the Black Fist Pirates,  he destroyed many World Government facilities along the Grand Line in search of Mire. He was titled "The Conqueror" due to his actions and became known as the most troublesome Yonkou of his time.
The Navy decided to put an end to his war by calling him out to a decisive battle. They scheduled the execution of Mire at the same place where her husband met his fate.
The bait succeeded. The Conqueror and the Black Fist Pirates attacked Marineford in full force. An apocalyptic battle ensued, which was broadcast to the world in hopes of deterring piracy in the future. The Black Fist Pirates inflicted great losses upon the elite of the Navy, but the Marines gained the upper hand against their greatly outnumbered foes. Mire's tears from the moment those executioner's blades pierced her heart would haunt the dreams of even the most stone-hearted. The Conqueror's indignation wrought upon the Marines a debilitating loss. With a single attack, he destroyed the Pillar of Justice - the monumental headquarters of the Navy.
The admirals, led by Fleet Admiral Hannibal Strauss, attacked The Conqueror in unison to end him in his near-death state. Before he fell into the sea from their final strike, he spoke bold words to the world, just like Marsh had.
"One Piece is real! When the King of the Pirates fought the world, they told you he lost. They lied! He beat them all... but surrendered to defend the legacy of One Piece. They called him Hoard Marsh. They lied! My captain's name was Hoar D. Marsh. And the Will of the D. still lives! It awaits the next soul who will define the future at the end of The New World... At Laugh Tale!"