Guest

Guest


Thu Jun 30, 2016 6:45 pm
Nova E Namid
Basic Character Information
Starting Bonuses:
Logia
First Name:
Nova
Middle Name/Initial:
E
Last Name:
Namid
Epithet:
Two Hands
Age:
19
Gender:
Female
Race:
Hybrid (Child of a human and fishman)
Faction:
Marine
Affiliation:
N/A
Position:
Vice Admiral
Profession:
Nova is a skilled gun wielder as she can even dual wield guns. However upon a ship, she will normally be the navigator
-------------------------------------------------
Physical Appearance
Height:
5'9
Weight:
158lbs
Hair Style:
Ponytail
Hair Color:
Plum colored
Eye Color:
Amber
Scars:
Nova has multiple bullet scars on her arms, legs and one on her chest
Clothing and Accessories:
Nova is a woman of approximately moderate height. She has amber-brown eyes, a slightly tan complexion, and typically keeps her plum-colored hair in a loose ponytail, with rather large bangs falling onto her forehead. In spite of her slender build, Nova keeps up her physique, sporting a slightly muscular build, which she doesn't conceal in the least. On her right upper arm, Nova has a tribal tattoo, reaching all the way up to her neck.
Her wardrobe typically consists of a pair of  military jungle boots, very short cut-off jeans, and a black crop top, leaving her belly exposed. She never bothers buttoning up her pants, and instead uses a belt to keep them up. Nova also sports a pair of brown leather cross-draw shoulder holsters to store her twin guns in when she isn't using them. She also typically wears a pair of fingerless black gloves.
For colder climates, she resorts to something a little warmer, including a warm hat, a lined brown coat, full gloves, a horizontally striped miniskirt, leggings, and brown boots.
Detailed Description:
Despite being part fishman, her appearance is mostly human, except for her teeth which are all sharpened like a shark, as her fishman heritage expresses itself in different ways.
-------------------------------------------------
The Past
Main Traits:
Courageous, hot-headed, dare-devilish
Likes:


Smoking: Calms the body, calms the mind

Alcohol: Anything that'll get her drunk she'll like it

Food: Nova is slightly gluttonous as she likes to eat... a lot

Dislikes:


Being Wet: It'll ruin her outfit and her skin if she gets wet (unless she is bathing of course)

Cold Weather: Nova dislikes cold weather since she doesn't like to put on extra clothing to keep her warm

Bugs: Comes in all shapes and sizes and yet they are all disgusting in her eyes

Hometown:
Shells Town
Personality:
Nova at first impression is usually kind and thoughtful. However she is hotheaded and has severe anger issues. Due to her anger problems, she is easily provoked. She turns sarcastic, rude and will spit out insults and will not stop at all. Often her anger comes in sudden intervals, one moment she can be calm and quite happy while it merely takes a second before she becomes aggressive and very angry. Even when not angered, Nova is quite oblivious to other's feelings, even when she is aware about how another person is feeling she simply ignores it. However she feels no guilt at all. If she did something wrong she won't feel the slightest bit of shame. Often, however Nova is carefree and laidback, she has a positive outlook on life and is quite stubborn. She is also quite courageous, very often to the point of recklessness. Often being a daredevil who cannot resist the thrill of any new challenge even if it means that she would sacrifice her life. She is also not a forgiving type of person but rather someone who enjoys taking revenge on others. Despite all of this, Nova is loyal. She picks a side and stay on it until something major happens to change her opinion on the matter. Nova often is known to have a short attention span when she is not interested. Often she will zone out when she is simply bored.
In battle Nova's personality takes a turn to the darker side. As her spirit was broken she began to develop what could be a second personality.  She is ruthless, cold, and she shows little to no emotion. She speaks with a cold voice that is devoid of even the slightest bit of emotions. She will shows neither mercy nor forgiveness in fights. She is cruel and unyielding, when fighting. Her sense of justice also comes out at this point as well as she has somewhat of a vigilante type of persona as she prefers to dish out her own punishment first before she hands them over for her actual However she is quite smart, despite the fact she is reckless when fighting so she won't die or lose the fight. Often she finds herself in a role of a follower but hates it. She likes to lead rather than be led. Due to this she is often very ignorant and rude. When she is a leader however she is more thoughtful and seems like she knows how to lead.
History:


The exact origins of Nova is unknown as the first record of her existence was when she mysteriously appeared at Shells town at the age of 4. The girl was assumed to be an orphan as she was alone when she had arrived. When asked about her past she simply stated she did not remember, which could possible be because she had a case of amnesia (or her memory didn't begin to develop yet). An old man however took pity upon her and decided to allow her to stay with him. The young girl spent her youth living along with a old man and helped him with his shop he ran. Around the age of 6, Nova began to play around with slingshots and rocks and people began to realize she had a very good aim. The old man, whom was a retired marine decided to teach her how to shoot with a gun (a real one as he thought she was ready to learn how to shoot at age 8), claiming it was for self defense when in fact he knew of her potential with a gun. After four years of practice, Nova became one of the best shooters in the town.

Upon age 12, Nova decided to join the Marines as Shells town was in fact a town that held a Marine base. However, the young girl was not mentally ready to face the hardships of the training. The intense training and the poor treatment she was forced to endure broke her spirit. Yet, it also made her become a better marine. After a few years of training and field work, Nova rose to the position of Vice Admiral. She became well known for the capture of many pirates (although many had low bounties) as well as her unique ability to dual wield guns which had granted her the Epithet "Two Hands". In addition to this ability to wield guns, the young woman learned how to navigate the sea.  One day, after protecting a small village against a group of pirates who wanted to raid the village to steal its money as well as the fabled "treasure of power", she was given the treasure as the villagers had claimed the treasure was only for those of a true hero.

The treasure was simply a strange colored fruit.  Nova, had known this fruit was in fact a devil's fruit however she did not know what type it was. She had carried the fruit with her for a few months before a group of pirates attacked the ship as they had heard of the devil's fruit that she had carried. Deciding to foil the pirate's plan she ate the fruit, knowing the risks and losing her ability to swim. After eating hastily with 5 large bites and a remark about how bad it tasted, she gained the power of the fruit and was able to turn into lightning. She was able to defend her ship and when she returned back to land she learned she had eaten the goro-goro no mi, a logia type fruit that had allowed her to turn into lightning. Nova wanted to learn how to make use of this new power as much as she possibly could. After a year of training of how to use this power, she received a flashback of her past before she lived in Shells town of her true parentage. In the flashback, she learned that her father was a human and her mother was a fishman which confused her as she had thought she was fully human her entire life. Determined to uncover more secrets of her past Nova left for the sea once again, in search of answers and along the way to possibly stop any pirate that decided to face against her.

-------------------------------------------------
Combat Statistics
Fighting Style:
Your devil fruit/techniques link goes here.
Equipment:
Links to your weapons and items go here.
Haki:
This field remains blank for now unless you acquired a particular haki in the starting bonuses page.
Stats:


Attack: 300

Defense: 275

Reflex: 295

Willpower: 310

-------------------------------------------------
Gray

---

[tracker=/t131-tracker-gray-starks#504]




Name

:

Gray




Epithet

:

"The Conqueror" / "Black Fist"




Age

:

49




Height

:

10'2" (310 cm)




Weight

:

1043 lbs (473 kg)




Species

:

Human Cyborg




Faction

:

Pirate




World Position

:

Lurking Legend (Former Yonkou)




Crew

:

Black Fist Pirates (Destroyed)




Ship

:

Sangria's Vane (Destroyed)




Crew Role

:

Captain (Former)

---

Devil Fruit

:

Pressure-Pressure Fruit

---

Bounty

:

[ber=r] 5,000,000,000




EXP Bonus

:

+0.20 (to all allies)




Income Bonus

:

+0.20




Shop Discount

:

-30%




Balance

:

[bel] 25,000,000,000

---

[[strollingdeath]][[baneoftheweak]][[riseandshine]][[childofdestiny]][[freakofnature]]
[[punchoutguru]][[dulcetvirtuoso]]

---

[[improviseadaptovercome]]

---

Posts

:

3735

---

Fri Jul 01, 2016 2:41 pm
Looking good Revy-- I mean Nova. Lmao. Anyways, just a few things I spotted, which I've marked in
Orange
.
Grading:

Nova wrote:

Nova E Namid

Basic Character Information

[url=Link to your starting bonuses post goes here][Starting Bonuses][/url]

First Name:

Nova

Middle Name/Initial:

E

Last Name:

Namid

Epithet:

Two Hands

Age:

19

Gender:

Female

Race:

Hybrid (Child of a human and fishman)

Faction:

Marine

Affiliation:

N/A

Position:

Vice Admiral

Profession:

Nova is a skilled gun wielder as she can even dual wield guns. However upon a ship, she will normally be the navigator

-------------------------------------------------

Physical AppearanceHeight:

5'9

Weight:

158lbs

Hair Style:

Ponytail

Hair Color:

Plum colored

Eye Color:

Amber

Scars:

Nova has multiple bullet scars on her arms, legs and one on her chest

Clothing and Accessories:

Nova is a woman of approximately moderate height in her early to mid-twenties

[You may want to remove the "mid-twenties" bit, since her age is mentioned before as 19.]

. She has amber-brown eyes, a slightly tan complexion, and typically keeps her plum-colored hair in a loose ponytail, with rather large bangs falling onto her forehead. In spite of her slender build, Nova keeps up her physique, sporting a slightly muscular build, which she doesn't conceal in the least. On her right upper arm, Nova has a tribal tattoo, reaching all the way up to her neck.

Her wardrobe typically consists of a pair of  military jungle boots, very short cut-off jeans, and a black crop top, leaving her belly exposed. She never bothers buttoning up her pants, and instead uses a belt to keep them up. Nova also sports a pair of brown leather cross-draw shoulder holsters to store her twin guns in when she isn't using them. She also typically wears a pair of fingerless black gloves.

For colder climates, she resorts to something a little warmer, including a warm hat, a lined brown coat, full gloves, a horizontally striped miniskirt, leggings, and brown boots.

Detailed Description:

Despite being part fishman, her appearance is mostly human, except for her teeth which are all sharpen

[Sharp or Sharpened]

like a shark, as her fishman heritage expresses itself in different ways.

-------------------------------------------------

The PastMain Traits:

Courageous, hot-headed, dare-devilish

Likes:



Smoking: Calms the body, calms the mind

Alcohol: Anything that'll get her drunk she'll like it

Food: Nova is slightly gluttonous as she likes to eat... a lot


Dislikes:



Being Wet: It'll ruin her outfit and her skin if she gets wet (unless she is bathing of course)

Cold Weather: Nova dislikes cold weather since she doesn't like to put on extra clothing to keep her warm

Bugs: Comes in all shapes and sizes and yet they are all disgusting in her eyes


Hometown:

Shelles Town

[Shells Town]Personality:

Nova at first impression is usually kind and thoughtful. However she is hotheaded and have

[has]

severe anger issues. Due to her anger problems, she is easily provoked. She turns sarcastic, rude and will spit out insults and will not stop at all. Often her anger comes in sudden intervals, one moment she can be calm and quite happy while it merely takes a second before she becomes aggressive and very angry. Even when not angered, Nova is quite oblivious to other's feelings, even when she is aware about how another person is feeling she simply ignores it. However she feels no guilt at all. If she did something wrong she won't feel the slightest bit of shame. Often, however Nova is carefree and laidback, she has a positive outlook on life and is quite stubborn. She is also quite courageous, very often to the point of recklessness. Often being a daredevil who cannot resist the thrill of any new challenge even if it means that she would sacrifice her life. She is also not a forgiver

[Forgiving]

type a

[of]

person but rather someone who enjoys taking revenge on others. Despite all of this, Nova is loyal. She picks a side and stay on it until something major happens to change her opinion on the matter. Nova often is known having

[to have]

a short attention span when she is not interested. Often she will zone out when she is simply bored.

In battle Nova's personality takes a turn to the darker side. As her spirit was broken she began to develope what could be a second personallity

[Be sure to proof-read!]

.  She is ruthless, cold, and she shows little to no emotion. She speaks with a cold voice that is devoid of even the slightest bit of emotions. She will shows neither mercy nor forgiveness in fights. She is cruel and unyielding, when fighting. Defeating her enemy in a fight isn't enough for her, she wants to humiliate, beat up her enemy to the point of near death. Often to satisfy her bloodlust she never kills anyone but rather draws out the fight to as long as she could possible could. Killing a person isn't fun for her, since they suffer way too little for her liking. In this mindset she has no problem at all with killing and sometimes will aim for the kill if they push her buttons. However she is quite smart, despite the fact she is reckless when fighting so she won't die or lose the fight. Nova doesn't fight well with allies in this state of mind; she often ends up getting them hurt instead. However this is not always true, if she is determined enough she will be able to fight along sides others without harming them. Nova never takes orders really well. Often she finds herself in a role of a follower but hates it. She likes to lead rather than be led. Due to this she is often very ignorant and rude. When she is a leader however she is more thoughtful and seems like she knows how to lead.

[Are you sure you want her to be a Marine and not a pirate or bounty hunter? Her personality seems way more suited for the latter two, xD The Marines don't just choose Vice Admirals without any vetting, y'know. A strong sense of justice (or even a blinded sense of justice) is usually a must.]

History:


The exact origins of Nova is unknown as the first record of her existence was when she mysteriously appeared at Shells town at the age of 4. The girl was assumed to be an orphan as she was alone when she had arrived. When asked about her past she simply stated she did not remember, which could possible be because she had a case of amnesia (or her memory didn't begin to develop yet). An old man however took pity upon her and decided to allow her to stay with him. The young girl spent her youth living along with a old man and helped him with his shop he ran. Around the age of 6, Nova began to play around with slingshots and rocks and people began to realize she had a very good aim. The old man, whom was a retired marine decided to teach her how to shoot with a gun (a real one as he thought she was ready to learn how to shoot at age 8), claiming it was for self defense when in fact he knew of her potential with a gun. After four years of practice, Nova became one of the best shooters in the town.

Upon age 12, Nova decided to join the Marines as Shells town was in fact a town that held a Marine base. However, the young girl was not mentally ready to face the hardships of the training. The intense training and the poor treatment she was forced to endure broke her spirit. Yet, it also made her become a better marine. After a few years of training and field work, Nova rose to the position of Vice Admiral. She became well known for the capture of many pirates (although many had low bounties) as well as her unique ability to dual wield guns which had granted her the Epithet "Two Hands" [Badass]. In addition to this ability to wield guns, the young woman learned how to navigate the sea.  One day, after protecting a small village against a group of pirates who wanted to raid the village to steal its money as well as the fabled "treasure of power", she was given the treasure as the villagers had claimed the treasure was only for those of a true hero.

The treasure was simply a strange colored fruit.  Nova, had known this fruit was in fact a devil's fruit however she did not know what type it was. She had carried the fruit with her for a few months before a group of pirates attacked the ship as they had heard of the devil's fruit that she had carried. Deciding to foil the pirate's plan she ate the fruit, knowing the risks and losing her ability to swim. After eating hastily with 5 large bites and a remark about how bad it tasted, she gained the power of the fruit and was able to turn into lightning. She was able to defend her ship and when she returned back to land she learned she had eaten the goro-goro no mi, a logia type fruit that had allowed her to turn into lightning. Nova wanted to learn how to make use of this new power as much as she possibly could. After a year of training of how to use this power, she received a flashback of her past before she lived in Shells town of her true parentage. In the flashback, she learned that her father was a human and her mother was a fishman which confused her as she had thought she was fully human her entire life. Determined to uncover more secrets of her past Nova left for the sea once again, in search of answers and along the way to possibly stop any pirate that decided to face against her.


-------------------------------------------------

Combat StatisticsFighting Style:

Your devil fruit/techniques link goes here.

Equipment:

Links to your weapons and items go here.

Haki:

This field remains blank for now unless you acquired a particular haki in the starting bonuses page.

Stats:



Attack: 300

Defense: 275

Reflex: 295

Willpower: 310


-------------------------------------------------
Guest

Guest


Fri Jul 01, 2016 2:55 pm
Gray

---

[tracker=/t131-tracker-gray-starks#504]




Name

:

Gray




Epithet

:

"The Conqueror" / "Black Fist"




Age

:

49




Height

:

10'2" (310 cm)




Weight

:

1043 lbs (473 kg)




Species

:

Human Cyborg




Faction

:

Pirate




World Position

:

Lurking Legend (Former Yonkou)




Crew

:

Black Fist Pirates (Destroyed)




Ship

:

Sangria's Vane (Destroyed)




Crew Role

:

Captain (Former)

---

Devil Fruit

:

Pressure-Pressure Fruit

---

Bounty

:

[ber=r] 5,000,000,000




EXP Bonus

:

+0.20 (to all allies)




Income Bonus

:

+0.20




Shop Discount

:

-30%




Balance

:

[bel] 25,000,000,000

---

[[strollingdeath]][[baneoftheweak]][[riseandshine]][[childofdestiny]][[freakofnature]]
[[punchoutguru]][[dulcetvirtuoso]]

---

[[improviseadaptovercome]]

---

Posts

:

3735

---

Fri Jul 01, 2016 2:57 pm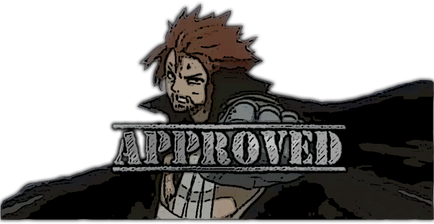 Gray

---

[tracker=/t131-tracker-gray-starks#504]




Name

:

Gray




Epithet

:

"The Conqueror" / "Black Fist"




Age

:

49




Height

:

10'2" (310 cm)




Weight

:

1043 lbs (473 kg)




Species

:

Human Cyborg




Faction

:

Pirate




World Position

:

Lurking Legend (Former Yonkou)




Crew

:

Black Fist Pirates (Destroyed)




Ship

:

Sangria's Vane (Destroyed)




Crew Role

:

Captain (Former)

---

Devil Fruit

:

Pressure-Pressure Fruit

---

Bounty

:

[ber=r] 5,000,000,000




EXP Bonus

:

+0.20 (to all allies)




Income Bonus

:

+0.20




Shop Discount

:

-30%




Balance

:

[bel] 25,000,000,000

---

[[strollingdeath]][[baneoftheweak]][[riseandshine]][[childofdestiny]][[freakofnature]]
[[punchoutguru]][[dulcetvirtuoso]]

---

[[improviseadaptovercome]]

---

Posts

:

3735

---

Sat Mar 11, 2017 3:28 pm
Permissions in this forum:
You
cannot
reply to topics in this forum