Guest

Guest


Sun Jul 03, 2016 12:44 pm
Urek T. Yashin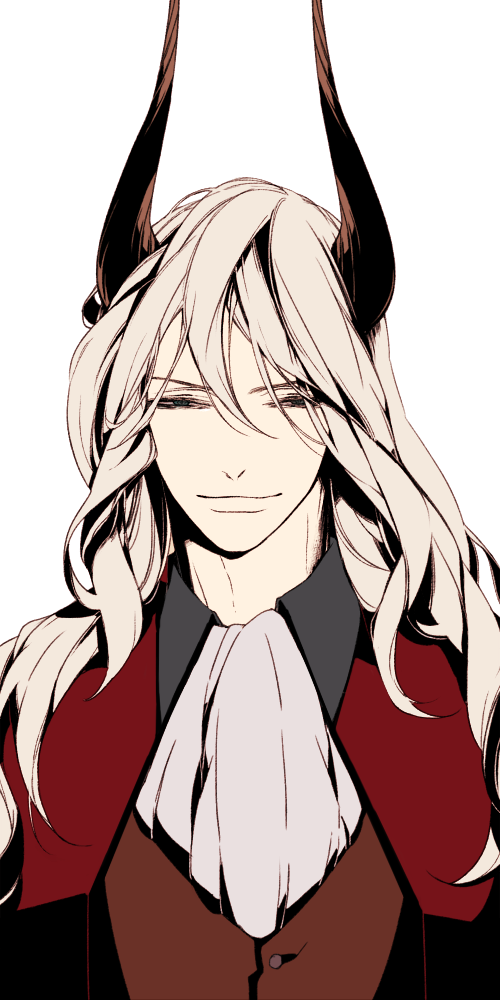 Basic Character Information
Starting Bonus:
One in a Million [1%]: You may start off with level 1 Haoshoku Haki.
[Starting Bonus Roll]
First Name:
Urek
Middle Name/Initial:
T.
Last Name:
Yashin
Epithet:
Demon Yashin
Age:
19
Gender:
Male
Race:
Horned
Faction:
Shichibukai
Affiliation:
Pirates
Position:
Profession:
Mercenary
-------------------------------------------------
Physical Appearance
Height:
8'
Weight:
300 lbs
Hair Style:
Long
Hair Color:
Blonde
Eye Color:
Pale Blue
Scars:
None
Clothing and Accessories:
Urek prefers to keep a simple yet elegant attire. This usually consists of a pair of long ironed flat black slacks that match his old plain black duster. Underneath this he wears your basic white tank top held down by a set of suspenders. On his feet you can find a spiffy set of black dress shoes with a slightly pointed toe.
Detailed Description:
Obviously the first thing you'd notice if you happened to bump into Urek would be the massive, near foot long, brown horns that sprout from the head and lastly the smile that always graces his face. Standing at 8 foot tall and weighing a small 300 lbs Urek has a very athletic yet lanky build, but he isn't one to just be overlooked. His blonde hair is kept free flowing, around the horns, and falling just below the shoulders typically covering his pale blue eyes. Never leaving home without his duster its always on, if he happens to take it off for a battle you know things are about to get serious. The duster is usually left unbuttoned exposing his flawless pale skin that isn't covered by his white tank top. Most people don't understand how someone who battles so much could have such nice skin, but that's what happens when you don't get hit.
-------------------------------------------------
The Past
Main Traits:


Calm


Acquisitive


Egotistical


Collected


Ambitious

Likes:Dislikes:


Being cheated


Losing


Liars


The ocean

Hometown:
West Blue - Las Camp
Personality:
Being the son of a former pirate you're raised with very certain ideals that you use to your own advantage while molding your life. Following in his father's footsteps Urek is the epitome of the apple didn't fall from the tree. He carries himself with a high demeanor not caring to recognized anything less than what he feels he deserves. "Freedom, treasure, and the sea that is the pirate life for me!" There is no point in living a life that you cannot control or be as free as the wind, he would rather die than be lost to someone else's whims.
For the most part if you were to be blessed with the presence of Urek you would notice that he always has himself collected behind a sincere smile. One very important rule is to keep yourself in check because if you're distraught it leaves you at a disadvantage to your opponents and there's nothing worse than losing. However on another hand war is not everything if you cannot simply converse with a person why should you try and take their lives? Always question yourself is what i'm doing worth its weight in gold. Give your all in your endeavours and never let yourself falter is the mindset.
Kindness does exist in Ureks heart somewhere along with his other feelings. Where the money goes Urek is sure to follow it playing his allegiance to the biggest purse. He holds very few people in mind when it comes to bonding with them preferring to place some distance and create less distractions. All in all Urek to most people is classified as a bit disconnected from being a human compared to everyone else.  
History:


"Born to the sea"
Storm clouds began to encircle the ships pulling the waves with them and rocking the ships. Mists of seawater spraying upon the men causing some to lose balance. If you were to look closely only a few men could be seen top deck the rest crowded in the captain's quarters. "It's a boy." the man cried holding the child high in the air as a distraction as another pulled a white sheet over the table. Somethings are a blessing in disguise, on this day the world received another pirate but happened to lose a mother and wife.

"The pirates life is for me!"
Just because Urek was the captains son did not mean he got a free pass when it came to being apart of the crew. One does not simply begin on top. Most of his early life was spent shadowing other crew members or doing some simple chores like scrubbing the floors or helping peel potatoes for lunch. He was a part of the crew, and they were not only the crew but his family. Everyone had cared for him in some way whether it came in the form of tough love or stowing him away during battle. Everyday came with a lesson of its own developing his own code.

"A boy becomes a man"
It didn't take long for Urek to make a name for himself when he entered his teens, of course romping around with a known group of pirates supported his reputation. As he gained a bounty his roots began to spread across West Blue causing pirates to gather and increase the size of his father's crew. You could probably imagine it wasn't long before the crew branched out and began to take control over West Blue clashing with the Navy at all times.

"Headlines"
With all of the days papers distributed everyone had read the same phrase "Infamous pirate beheaded in battle." Devastated Urek hounded everyone into position and began to pursue the Read Admiral that had taken his father. It took the crew all night pushing themselves through exhaustion to hunt down the Marines. Urek however had forgotten a very valuable ideal, don't let your emotions cloud your judgement. Irrationally they attacked. The clashed lasted for days; cannonballs soaring through the air, blood streaming everywhere, and swords clanking as the two crews battled it out. At the very center of this bout stood a boy and a man. Urek and Rear Admiral Drapon.

-------------------------------------------------
Combat Statistics
Fighting Style:
Your devil fruit/techniques link goes here.
Equipment:
Links to your weapons and items go here.
Haki:
This field remains blank for now unless you acquired a particular haki in the starting bonuses page.
Stats:


Attack: Starting Stats must add up to 200, plus any starting bonuses you may have gained.

Defense:

Reflex:

Willpower:

Permissions in this forum:
You
cannot
reply to topics in this forum