Serena Bethany Gambino
---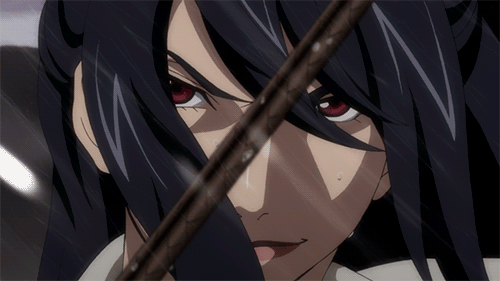 Basic Character Information
---
Starting Bonus:
Tough Guy. |
[Starting Bonus Roll]
First Name:
Serena
Middle Name/Initial:
Bethany
Last Name:
Gambino
Epithet:
"Made Madame"
Age:
19
Gender:
Female
Race:
Human
Faction:
Bounty Huntress
Profession:
Expert Tracker:
She is someone who has spent a great deal of time watching and observing those around her and their movements. She can locate persons that have not covered their tracks all that well, so long as she has a general understanding of their personality. Her observational skills are primarily rooted in her haki, but she utilizes it a great deal to get the results she so desires. She has a deep-seeded understanding of people due to spending her time as a shut-in with vastly voyueristic tendencies.
Animal Handler:
She has a lot of experience training animals, to the point in which she often finds herself protecting them from harm. She is not aware that Minks are a thing in the world yet, but her affinity for the "animal kind" comes from a deeply ingrained empathy for those creatures. She thinks they are the most innocent of all things in the world, and her bond is why so many animals follow her.
Treasurer:
Being from a family that cares little for human life and deeply for money, she understands the value of a berry and how to make it tangible and sustainable. Her entire life has been determined around the influence of money, and as a result she has an appreciation for it on a subconscious level that defines her a great deal. So her money management skills are highly defined and natural.
---
Physical Appearance
---
Height:
5'9"
Weight:
110 lbs
Hair Style:
Curly, Unkempt
Hair Color:
Royal Purple
Eye Color:
Burgundy
Scars:
None
Clothing and Accessories:
She often pins her hair up, as it is long, unruly, and often in the way, obscuring her vision. She likes to wear an outfit that is minimal and yet functional. Often wearing a white dress-shirt, a blouse if one wants to put it that way, that covers her torso. She often takes the wrist-cuffs and rolls them up to expose her forearms, wrists and hands respectively. She leaves the blouse open, typically showcasing a great deal of cleavage all the while. Often, she wears a belt around her black dress-pants and she wears small, dull grey shoes that have small heels. On her waist she often keeps her whip.
Outfit:
Description:
Her facial features are womanly and mature, and the contours of her jawline is sensual and sleek. Her eyelashes are elongated and full, curling upwards at the tips in a seductive manner. Her lips, supple and full, masking her perfectly pearly porcelains within her mouth. After-all, dental hygiene is important. Her hair is naturally curly at the ends and is a deep purple, much like her mothers, and she sports eyes that seem golden in color in the right light but are actually a deep burgundy. Her skin tone is one that is is slightly tanned, so that she isn't exactly pale. But she is by no means dark-skinned nor is she even a hint of red. She has a thick accent that sounds vaguely Sicilian, due to that being the closest real-world comparison to what her accent from her island sounds like, stereotypical of mafioso.
She is a woman with a figure buxom and full. Underneath her rather sizable, ample bosom are rock-hard muscles constituting her six-pack, show casing how hard she has worked out and kept herself in shape over the course of her rather short bounty-hunting career. Her biceps are also swollen whenever she flexes them, but her arms are still dainty showcasing her attention to her development of lean muscle. She has thighs that are as full as her backside, and they also are defined on their musculature. She is a person that displays a level of physical excellence that is befitting of someone who spends a lot of time on their feet. She is a figure that is both curvy and yet defined like a real world sports model, and her figure is one that allows her to do the feats that she often does. To say she is healthy would be an understatement.
---
The Past
---
Main Traits:
Organized, Coordinated, Competitive, Attentive.
Likes:
Strong Men, Bravery, Intelligence, Novels, Tea, Justice, Humility.
Dislikes:
Meek Men, Cravens, Imbeciles, Pugilists, Rum, Injustice, Criminals.
Hometown:
Uncharted Island, West Blue
Personality:
She is a delusional and vastly angry individual who assumes that anything that could be misinterpreted as a flirtation more than likely is one. She is a beacon of justice who, due to the trauma of her youth, has allowed herself to see criminals as less than human. She has a very strong sense of loyalty bordering on psychopathic attachment and she is very much so the type of person to shot first and ask questions later. She admires and appreciates the marines , though has no intention of ever being tied down to one cause or one individual. As far as she is concerned, she is here to rid the world of an infection plaguing it and will go to any lengths to see the world protected from that deeply rooted cancer. Her actions and ambitions do not coincide with one another by any stretch of the imagination, given that she will often act in a manner far more violent than the criminals she seeks out, and she is known for bringing back her targets dead more often than alive. She has no hatred towards any particular individual, but she will not hesitate to put someone down if she perceives them to be a threat that she could feasibly handle.
She has proven to be a bit of a loose canon during the start of her career and has no issues with accumulating the ire of foes beyond her strength if it means that she can give a fighting chance to those around her in the world. She seems to give off a very haughty and arrogant vibe when she speaks to others and she is prone to outbursts of extreme joy and tantalization due to her trauma of watching her entire family be slaughtered by the world government. An event that she, while on the one hand, deemed necessary for the safety of those around her, also broke her mind given that she was still a member of that very family that was wiped off the face of the map. Her antics have made her cautious of those whom would seek to use her, especially those whom she deems to be just as dangerous as the criminals she hunts down. While she is not above striking out at people who cause injustice without a bounty, she is often weary about it as she does not want to accumulate a bounty herself. Though she has donned the habit of avoiding anywhere in which a world noble might be, given that her views on those of higher stations is tainted and she is very much aware that she could not realistically stop herself from lashing out at them.
History: