Brood

---

[tracker=/t196-brood-xaldin-bach#715]


Name

: Brood X. Bach


Epithet

: Mushiba (Tooth-Decay)


Age

: 28


Height

: 9'2"


Weight

: 490 lbs


Species

: Human


Faction

: Pirate


World Position

: Shichibukai (Future)


Alliance

: Nox Prime


Crew

: P.T.S.D.


Ship

: The Dead Air


Crew Role

: Chairperson

---

Devil Fruit

: Amai Amai no Mi

---

Haki Level

: 7

---

[[kenbunspec]]

---

Hitpoints (HP)

: 380


Attack (ATK)

: 525


Defense (DEF)

: 350


Reflex (RX)

: 510


Willpower (WP)

: 400

---

Level

: 70


Experience Points

: 7039


Bounty

: [ber=r] 365,000,000


Quality Score

: S


Income Bonus

: +0.20


Shop Discount

: -25%


Berries

: [ber] 76,550,000

---

[[baneoftheweak]][[riseandshine]][[childofdestiny]]
[[punchoutguru]][[barrelcrazed]]

---

[[rxt6_df]][[rxt6]][[rxt6]][[rxt5]]

---

Posts

: 336

---

Sat Dec 18, 2021 12:12 pm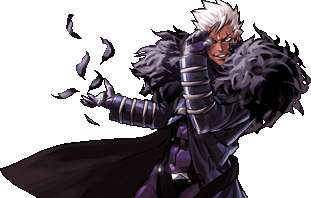 OOC: (-eh is a cough; -ee is a weeze)


"Ah... so you're an-ee old fuck basically-eh. Gotcha-eh."

There was a sincerity to Brood's epiphany.  If you even could call it that. He realized that he was dealing with a man of many years of experience out here on the sea. To that end, why bother trying to tell the man how to escape? He already knew! Communication was for little bitches anyway. It was nice and refreshing to have someone that already could understand the best courses of action. It was... satisfactory to say the least.

To Brood the path ahead was as crystal clear as a stained glass window. He had no reason what-so-ever to distrust the rat bastard and his sinister mustache, so he figured following the man's escape plan was a completely flawless idea. All that mattered now was the execution.

Fortunately, Brood was something of a savant when it came to executions, be they of the public sort or otherwise. There could be no margin of error here.

"On my mark-ee..." Brood placed his wide spread fingers on the wooden door, his digits straining the grain underneath the weight of his phalanges enough to cause an audible whine from the construct.

In a way the suffering of the door related to Brood's current mental state well. For in Brood's mind, he had already utilized the information given to him in a manner that would lead to the pair's successful retreat.

The only issue being that he'd not get a chance to relay this information to his compatriot.

"Now!-eh-eh-eh-ee" Brood didn't forget to hold back, he merely had no notion of the concept. To that end, as he pushed the closed door forward he'd eliminate it's hinges and send the wooden barrier outwards towards the street in a shower of splinters. His large frame exiting the hovel mere seconds after the fact.

He was already unchained now, following the path that was laid out before him by the plague rat.

He'd get to that scrap island unimpeded, though whether or not the rat followed him he didn't check. Self-assured that the duo would make it without any further issue.



{ 353| 11,902 | 5000 }
________________________________________________________
Maxwell

---

[tracker=/t139-richard-maxwell#516]


Name

: Richard Maxwell


Epithet

: Plague Rat


Age

: 49


Height

: 6'0" / 183 cm


Weight

: 160 lbs. / 73 kg


Species

: Human


Faction

: Pirate


World Position

: Supernova


Haki Level

: 3

---

Hitpoints (HP)

: 251


Attack (ATK)

: 300


Defense (DEF)

: 500


Reflex (RX)

: 600


Willpower (WP)

: 215

---

Level

: 68


Experience Points

: 6845


Bounty

: [ber=r] 235,000,000


Quality Score

: S+


Income Bonus

: +0.20 (to all allies)


Shop Discount

: -10%


Berries

: [ber] 379,332,375

---

[[bookworm]][[firstaidkit]][[berryprinter]]

---

[[atkt3]][[atkt3]][[deft5]][[wpt3]]

---

[[screwyourngesus]][[screwyourngesus]][[screwyourngesus]][[skinofyourteeth]][[skinofyourteeth]]
[[identitytheft]][[identitytheft]][[tacticalretreat]][[tacticalretreat]]

---

Posts

: 276

---

Sat Dec 18, 2021 2:16 pm
Richard shuddered. There it was again. That maniacal little gleam in the corner of the candyman's eye... The look that screamed TROUBLE in all capital letters. Sure enough, the gleam was quickly followed by a shower of splinters barraging the street.

Welp, so much for the quiet approach.

Fortunately, the rat was far too used to thinking on his feet. And his thoughts were swift. Without wasting a heartbeat, he hauled tail down the now open path. He followed his new partner's lead. A terrible mistake, really.

Before the coward quite realized what was happening, he found himself high above rooftops. It turned out the water elevator was currently at the bottom. Elevators had this troublesome habit of going up and down. So instead of a leisurely ride, their improvised escape route switched to the fastest shortcut available. Across the air and several stories down.

A shrill scream rattled Richard's raspy throat. His hand reflexively shot up, snatching the hat that threatened to escape his head. Whiskers trembling, he plummeted down. Through some manner of miracle, he managed to tuck his legs and roll, as he hit the rooftop. Stumbling down, he hit every single balcony along the way, before finally finding a solid street beneath his legs.

Thanking every deity that sprung to mind, the rat kept running. Scrap Island was just ahead. It was the home stretch, see. Just a little further...

However, one detail nagged at the doctor. Warily he glanced over his shoulder, grimacing at the tiered city behind them. A fall from that height should've broken his legs... Or torn a couple of ligaments at the very least... Yet here he was, running without so much as a limp.

No, this wasn't right...

While years of the best medical care illegal money could buy had made the man heartier than average civilians, he was no superhuman. Or he didn't consider himself one at least. He wasn't some cartoon character from a News Coo comic, who could leap from buildings without a scratch. So how...? Tch, no, not the time. He could run a proper self-physical later...

Thus the dynamic duo narrowly slipped through the Marine blockade. Just as Brood had promised, his crew picked them up before the boys in blue caught onto the plan. Having allies came in handy.

As the ship sailed off, Richard slumped against the railing. His adrenaline crashed hard. Finally his lighter sparked enough to light an unhealthy vice. Taking a long, tired drag, he bid good riddance to the city of water. His thoughts strayed onto the new partnership and the trouble it entailed.

Ah, but all that would be a misadventure for another time.

Words: 446
Total: 8457
Gray

---

[tracker=/t131-tracker-gray-starks#504]


Name

: Gray Starks


Epithet

: The Conqueror / Black Fist


Age

: 49


Height

: 10'2" (310 cm)


Weight

: 1043 lbs (473 kg)


Species

: Human Cyborg


Faction

: Pirate


World Position

: Lurking Legend (Former Yonkou)


Crew

: Black Fist Pirates (Destroyed)


Ship

: Sangria's Vane (Destroyed)


Crew Role

: Captain (Former)

---

Devil Fruit

: Pressure-Pressure Fruit

---

Haki Level

: 10

---

[[haoasc]][[busoasc]][[kenbunasc]]

---

Hitpoints (HP)

: 750


Attack (ATK)

: 800


Defense (DEF)

: 600


Reflex (RX)

: 715


Willpower (WP)

: 650

---

Level

: 100


Prestige

: 8


Experience Points

: 18000


Bounty

: [ber=r] 5,000,000,000


EXP Bonus

: +0.20 (to all allies)


Income Bonus

: +0.20


Shop Discount

: -30%


Berries

: [ber] 25,000,000,000

---

[[strollingdeath]][[baneoftheweak]][[riseandshine]][[childofdestiny]][[freakofnature]]
[[punchoutguru]][[dulcetvirtuoso]]

---

[[atkt6_sp]][[deft6]][[rxt6]][[wpt6]]

---

[[1needlelog]][[3needlelog]]

---

Posts

: 3437

---

Thu Mar 17, 2022 3:53 pm
GRADING
---
Quality Score Assessment: Yes
---
ASSESSMENT COMMENTS
Richard Maxwell:

+

[Only their impeccably groomed moustaches set them apart, pointy and twirly respectively.] What's a conductor without a good moustache, eh?

+

[Sadly, the rat had missed the rest of the exchange. He was long gone by now.] "He was long gone by

then

." I know, I'm two years late on this comment. But, would I be me if I didn't pick on something?

+

[Today just wasn't his day.] At least his morning started out pleasantly.

+

["Tell me, boys, any avid readers among us? Anybody here familiar with the book Dr. Kureha and Mr. Tony?"] Now, now. Just where did Maxwell get his hands on such a heretical book? The World Government wants to know your location.

+

[[LT - Tent-A-Tackle] It tackled him to the ground and started quickly wrapping around him. [LT - Grabbity Squeeze] [UT] A panicked shriek hitched in his throat. He had read enough sailor stories to know where this was going...] At least you didn't call it "Hent-A-Tackle" then.

+

[Bluish blood sprayed.] That must be quite a privileged octopus.

+

[Sidestepping several slams, he snuck closer like it was a dance. Waltz to be exact. Jana's favorite...] It's not often that you mention the doctor's ex-wife in your threads (at least not that I can recall). Seeing this pleases me.

+

[...while their leader was still ranting about killing him so hard that he would die to death.] Salty Sam does have a way with words.

+

[He wasn't much of a fighter, he knew that better than anyone. Having an expert on bloody murder in his corner would come in handy.] Well played, sir.

+

[It actually took effort to clamp his mouth shut there. The sensation was quite similar to forcefully closing a rusty valve.] I always love your similes and metaphors.

+

[However, one detail nagged at the doctor. Warily he glanced over his shoulder, grimacing at the tiered city behind them. A fall from that height should've broken his legs... Or torn a couple of ligaments at the very least... Yet here he was, running without so much as a limp.

No, this wasn't right...

While years of the best medical care illegal money could buy had made the man heartier than average civilians, he was no superhuman. Or he didn't consider himself one at least. He wasn't some cartoon character from a News Coo comic, who could leap from buildings without a scratch. So how...? Tch, no, not the time. He could run a proper self-physical later...] I'm curious to know where you're going with this.
Brood X. Bach:

+

I really liked the introduction and description of pirates in the first post.

+

[...a massive void of physical forms flooded out into the docks...] I'm not sure this means what you may have wanted it to meant. Unless they were all wearing black or something.

+

[The male grunted to himself for a moment, thinking about where exactly he wanted to go, before opting to simply allow his feet to guide him. His aimless waltz found the snow-haired brute within unfamiliar company. Callous and horrendous eyes piercing into the void of humanity and seeking out a face clearly recognized, though never directly encountered. He had heard tale of his own ascension within the pirating world, claiming a spot among the supernova. To that end, he had never seen nor met another one in person. Especially given the fact that he kept to his crew for the most part. He had walked for what seemed like forever, just to now be stopped dead in his tracks by an individual that, admittedly, seemed preoccupied with their surroundings opposed to himself. His concentration on this random element would find itself broken however, once an amphibious bloke would shoulder check him, snarling and walking past with menace. It was....strange...he never felt that before.] I'm sure this has improved later in the thread, but, you had the tendency to bloat your narration with unnecessarily complicated language. It makes it difficult to follow what's actually happening.

This post

was especially frustrating to read. Doubly so due to the unusual number of grammatical errors.

+

[...before his eyes would bare over towards some weird ass marine whom was whipping people like a dominatrix.] LOL. As usual, the sass is wonderful.

+

[Were these fish sticks really going to try and take on Brood X. Bach so recklessly... Brood would showcase his unusually superior attack potential almost instantly... Brood himself had quite the wanted poster himself... He didn't see a reason to unleash the full fury of his abilities, choosing instead to utilize only a fraction of his overwhelming physical ability... To put it bluntly, few individuals living today could achieve as much as Brood could, not that he cared all that much...] Too much autofellatio can't be good for you, bro.

+

[No matter how you sliced it, he was

an

dangerous individual. Worthy of his reputation.] I believe I've noticed this before, but, I may be imagining it. Your usage of articles (a/an) seems to ignore adjectives. In this case, you seem to be using "an" because the noun that follows is "individual", which starts with a vowel sound. It should be "a dangerous individual" because you should be taking adjectives into account.

For an explanation on this, check out this article (no pun intended):

https://www.businesswritingblog.com/business_writing/2022/01/a-an-explanation-of-how-to-use-a-or-an-properly.html

(Scroll down to the "A brown earthworm and an ant crawled across the sidewalk" example.)

+

[...but it was clear to the scaly sissy that something was off with the master of malnutrition. Still, he didn't proceed with caution and found himself charging forward, attempting to gore the god of brooding...] I always like your choice for nicknames, but, I don't like how often you use them and switch them up. It can get confusing to follow what's happening to whom.

+

[This left the big bastard,

whom

was nearly ten feet in height, turning around quickly to bring his hammer down.] I noticed you misuse "whom" very frequently. I found eight instances of you using "whom" in this quest. Not a single one of them was correct. Your one use of "whomever"

was

correct though.

If in doubt, you can try substituting "he" and "him" instead of "who" or "whom". If "he" sounds more correct, use "who". If "him" sounds more correct, use "whom". ~95% of the types of clauses you use "whom" in, "who" is the correct choice.

+

[It gave him a chance to focus on the smaller of opponents..

who

Brood perceived to be the true threat among the pair.] Hah. Found a case where you used "who" when "whom" would've been correct. It's easier to substitute he/him to check which one fits better by reorganizing the clause a little. "...Brood perceived

he/him

to be the true threat." As you can see, "him" would be correct there. As such, "whom" is what you needed here.

+

[Everyone that he associated with held loyalty as one of their primary tenets. Anyone who showed duplicity would face a swift and terrible death.] RIP, Richard Maxwell.

+

[That marine that was here with them earlier didn't have any style or substance at all. Which was why he was nowhere to be seen.] Lmao, a well-deserved burn.

+

[...causing the candy coated

colossi

to roll backwards like a ball of dough...] "Colossi" is the plural of "colossus".

+

["Aim for his gills, I know you're not opposed to fighting dirty."] I would've appreciated this advice more if it were from Maxwell to Brood. Maxwell's medical knowledge coming in handy beyond just his concoctions and obligatory healing would be good to see.

+

[He'd never show his back to an opponent, though he was not afraid to play dead should things go the wrong way here.] This seems very contradictory to how you're portraying Brood's personality in the flashback. Brood comes off as the type who could never imagine losing. So, for him to even think about playing dead if things go wrong just doesn't feel right. Especially since he has yet to be taught the lesson that the world is a big place full of people scarier than him (Dimachaerus would be the first to teach him that). His speech that follows makes this feel even more out of place.

+

[His drooling was rather intense now, as he chose to stop restraining the need to drool.] Picturing this is always hilarious.
Overall:

+

I enjoyed the second half of the quest. The conversation between Maxwell and Brood was fun. Though I would've liked to see a more profound basis for a partnership. One random unwarranted fight together felt like weak reasoning to form this sort of bond.

+

Speaking of the fight, I would've liked to see more story behind it. Random fishmen terrorists attacking with no agenda within sight beyond "humans bad" felt unsatisfying. I would have also liked to see more interaction with your surroundings. The fact that you were in Water 7 didn't really stand out until the very end of the thread (minus the fact that the fishmen were taking advantage of the canals - that was good).
---
REWARDS
Richard Maxwell:

Difficulty Bonus:

+50% (+2)

Quality Bonus:

+225% (S+)

Length Bonus:

1.69 (8,457 words)

EXP Multiplier:

+0%

Income Multiplier:

+20% (Berry Printer)

Apology Bonus:

+100% (For the long wait)

EXP:

+402 (1.69*50)*(1+0.5+2.25+0+1)

Berries:

+142,213,500 (1.69*68*250k)*(1+0.5+2.25+0.2+1)

Bounty:

+25,000,000

| {For beating the infamous Salty Sam within sight of the Marines.}

---

Ryoichi Old EXP:

3813

Ryoichi Updated EXP:

4215

@Ryoichi Ayugai

leveled up 4 times. Let me know where the +80 stat points need to go.

Ryoichi Old balance:

115,317,400

Ryoichi Updated balance:

257,530,900

Maxwell Old bounty:

210,000,000

Maxwell Updated bounty:

235,000,000
Brood X. Bach:

Difficulty Bonus:

+50% (+2)

Quality Bonus:

+200% (S)

Length Bonus:

2.00 (10,000+ words)

EXP Multiplier:

+0%

Income Multiplier:

+30% (+10% from Blockbuster; +20% from Maxwell's Berry Printer)

Apology Bonus:

+100% (For the long wait)

EXP:

+450 (2*50)*(1+0.5+2+0+1)

Berries:

+168,000,000 (2*70*250k)*(1+0.5+2+0.3+1)

Bounty:

+10,000,000

| {Brood's bounty is already quite high, even if this was set in the past.}

---

Draconia Old EXP:

2125

Draconia Updated EXP:

2575

@Draconia

leveled up 4 times. Let me know where the +80 stat points need to go.

Draconia Old balance:

4,050,000

Draconia Updated balance:

172,050,000

Brood Old bounty:

355,000,000

Brood Updated bounty:

365,000,000
---
Permissions in this forum:
You
cannot
reply to topics in this forum