Draconia

[tracker=/t1052-draconia-sanguis#5320]


Name

: Draconia Sanguis


Epithet

: Kamehime


Age

: 23


Height

: 11'5"


Weight

: 259 lbs


Species

: Oni


Faction

: Marine


Crew

: The 69th Battalion


Ship

: The Silver Ending


Crew Role

: Apprehensions Commander

---

Devil Fruit

: Ryu Ryu no Mi, Model: Carbonemys

---

Haki Level

: 1

---

Hitpoints (HP)

: 167


Attack (ATK)

: 150


Defense (DEF)

: 215


Reflex (RX)

: 130


Willpower (WP)

: 135

---

Level

: 25


Experience Points

: 2575


Berries

: [ber] 132,050,000

---

[[jurassicbark]]

---

[[atkt3]][[atkt1]][[deft1]][[deft1]]

---

Posts

: 53

---

Tue Jul 19, 2016 8:33 am
Draconia Sanguis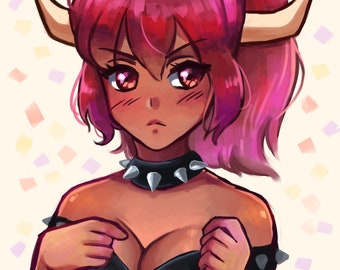 Basic Character Information
Starting Bonus:
Jurassic Bark. |
[Starting Bonus Roll]
First Name:
Draconia
Middle Name/Initial:
Invictoria
Last Name:
Sanguis
Epithet:
Kamehime (Tortoise Princess)
Age:
23
Gender:
Female
Race:
Oni
Faction:
Marine
Affiliation:
World Government
Position:
Commodore
Profession:
Apprehensions
-------------------------------------------------
Physical Appearance
Height:
9' 0" in
Weight:
259 lbs
Hair Style:
Ginger, Long.
Hair Color:
Blazing Red.
Eye Color:
Reddish Blue, with tinges cyan.
Scars:
None
Clothing and Accessories:
She wears the standard Marine jacket over her bodysuit. She has numerous spiked cuffs, a spiked collar, earrings, and a hairpin that is shaped like a crown that keeps her hair upwards.  When not on duty she wears a little black dress and spiked heels. She always keeps her flame gauntlets and bodysuit on when on duty, which round out her outfit.
Detailed Description:
She is muscular as hell and is fit like an gymnastic Olympian, though one could argue that her proportions are also as sleek as an Olympic swimmer. She is proportionate despite her massive size and it is clear her size is due to the devil fruit opposed to her being naturally as talk as she is.
-------------------------------------------------
The Past
Main Traits:
Unstable, Merciless, Courageous, Empathetic, Lascivious, Volatile.
Likes:
Comedy, Fighting, Panties, Sake, Gambling, Her boyfriend & girlfriend.
Dislikes:
Pirates, Cowards, Prudence, Cheating, Betrayal, Aristocrats.
Hometown:
Kinoko Ōkoku [Uncharted Island]
Personality:
Draconia is a psychopath due to the constant abuse and near-death experience that she had when she was growing up. She has a strong accent that sounds like a heavy mixture of both Irish and Jamaican, combining into the natural language of her kingdom in which she was born. She is someone that is quick to hurt others and feels little empathy for others due to the fact that her own sense of justice has been skewed by witnessing countless injustices. She is used to being betrayed and uses a great deal of vices to cope with the darkness that has showcased itself in her mind. She is not a kind woman at all and is prone to anger and mockery if it suits her mood. She is the kind of person whom shows a dangerous amount of courage in the face of danger, due to almost dying once already. She is completely and utterly asinine when handling others and she completely hates Pirates due to the fact that her biggest rival sold her country out to swashbucklers long ago.
Draconia's aggressive behavior is worse due to being both a carnivorous zoan and an ancient zoan user. She seemingly thinks highly of herself despite the fact that she has not done anything truly of note. She is a pyromaniac, obsessed with fire since she was hurled into the depths of an active volcano for an undisclosed amount of time. As a result her speech pattern was broken and she exaggerates her national language quite badly. She also showcases a morbid sense of humor with her anger as the catalyst to tapping into the sheer depths of her power. She is a scion of rage made incarnate and believes through anger clarity can be achieved. She acts in a manner of debased pirate, but follows the laws to the letter only abusing her power when it is clearly capable of being allotted. She cares little for Celestial Dragons, the Yonko, or individuals whom showcase hesitation or cowardice. She is for all intents and purposes a beast. A true chaotic neutral if there ever was one. She can be wild, but is reigned in easily by superiors. She wants to join CP0.
History:



Raised to be the epitome of class and refinement, young Draconia was heir to the throne of Kinoko Ōkoku without question, despite the fact that she was born from an unwanted marriage. The Kingdom in which she hailed from was led by a false ruler, a man of wicked intent whom came from a far away land known as Onigashima and it was only when he was driven away from the island by a knight baring a gorilla devil fruit that the people in her homeland were freed. Though both her father and the knight were both slain in the ensuing battle, many clamored for the Queen to remarry so that she could legitimize the throne under an heir that didn't have tainted blood. She was a broken woman, however, and found herself unable to continue on, taking her own life after the years of torture she endured. As a result, a distant family took power after a strong war in the country, leaving it's new rulers as the de facto heads of the nation. Draconia was cast aside, but allowed to live in the castle as a lady in waiting towards the new rulers.

This distant cousin would marry and die off, leaving his wife and step-daughter as the ruling monarchy within the kingdom shortly after. This unrelated daughter, known as Princess Nectarine, was a sadistic and tyrannical woman whom both abused and treated Draconia like a slave, more so than a lady in waiting. She displayed herself in a kind and compassionate way to the kingdom's people and endured herself to two local heroes whom doted on her. Using her womanly wiles she would take these two heroes and turn them into her personal bodyguard, using her charms to convince the pair to do horrible things in her name while under the guise of justice. Perverting the meaning of the word. It didn't take long before Draconia's displeasure was made known. She tried to become outspoken to the new princess, but ended up embarrassing her instead. It didn't take long before the princess wanted revenge, and she convinced her two champions, one clad in red and his twin brother clad in green, to dispose of the brutish female for good.

That night they set themselves upon her, tossing her towards the mouth of an inactive volcano, assuming that her body fell directly into the pit itself, but the female had lucked out. Landing on one of the inner ridges, body sprawled out and broken. She was unable to move, drinking water from the rain and eating any bugs and insects that happened to get too close to her from inside of the pit itself. That was, at least, until a small orb fell from above, landing near her mouth. Unable to keep herself sane, she dove onto the fruit and found herself unable to care that her stomach churned as she devoured the fruit. Hours passed...and what little motor function she had seemingly came back to her in due time. She was able to use her newfound strength to rise up...learning how to use her facilities again. Soon she climbed out of the pit, looking out over the Kingdom that spurned her. She must have been gone for months...because what Kingdom was there was ultimately destroyed. Replaced by a white flag with two words placed upon it. World Government.

When she found herself returning to town, she learned that the Princess had been gaining a small sum by using the Kingdom as her own little piggy bank. Letting pirates pay a sum to house their treasures here and letting them all have the run of the place. Those Toads disgusted Draconia and knowing that she had no place here anymore, she went to see if she could confront the princess in her cell. To her surprise, the men stationed there had been killed, maimed or otherwise gored. Reaching a nearby guard, she quested the man as life faded from his eyes. He told her that a man clad in purple and one in yellow had sprung the princess and her two cohorts out of her cell. She knew what this meant. If the princess had fled...Draconia would have to hunt her down. But she had no means of doing such a thing. Knowing that she could not let that bitch survive, she did the only thing that she could do. She sought out a recruiter and made it clear she was willing to work hard if it meant she could serve the liberators of her home country. Impressed by her gumption, she was added in.

She showed her dedication as she rose through the ranks over the coming years. Her feats and victories over pirates and her service to her captains and commanders made it clear that this exceptionally large female was not someone to merely overlook. She spent a great deal of time working any job they gave her, with the drive of revenge being her soul purpose of going forward. She didn't rise up the ranks like a prodigy, but she had the training and favor of many above her, whom saw her potential. Her devil fruit and race helped, of course, and her loyalty and dutiful nature showcased that she was to be trusted. Soon she would be promoted to a commodore. Knowing that the mission before her was not meant to be easy, she gathered her wits and headed out to see the truth of the world from her own eyes. With signs of that evil woman finally showing it's head to her again, she found herself moving to be stationed at Las Camp. It would be here that her adventure into the new world would start. As certain rumblings would indicate that a certain something was going to be happening soon enough. A fact that caused the female to be apprehensive at best.


-------------------------------------------------
Gray

---

[tracker=/t131-tracker-gray-starks#504]


Name

: Gray Starks


Epithet

: The Conqueror / Black Fist


Age

: 49


Height

: 10'2" (310 cm)


Weight

: 1043 lbs (473 kg)


Species

: Human Cyborg


Faction

: Pirate


World Position

: Lurking Legend (Former Yonkou)


Crew

: Black Fist Pirates (Destroyed)


Ship

: Sangria's Vane (Destroyed)


Crew Role

: Captain (Former)

---

Devil Fruit

: Pressure-Pressure Fruit

---

Haki Level

: 10

---

[[haoasc]][[busoasc]][[kenbunasc]]

---

Hitpoints (HP)

: 750


Attack (ATK)

: 800


Defense (DEF)

: 600


Reflex (RX)

: 715


Willpower (WP)

: 650

---

Level

: 100


Prestige

: 8


Experience Points

: 18000


Bounty

: [ber=r] 5,000,000,000


EXP Bonus

: +0.20 (to all allies)


Income Bonus

: +0.20


Shop Discount

: -30%


Berries

: [ber] 25,000,000,000

---

[[strollingdeath]][[baneoftheweak]][[riseandshine]][[childofdestiny]][[freakofnature]]
[[punchoutguru]][[dulcetvirtuoso]]

---

[[atkt6_sp]][[deft6]][[rxt6]][[wpt6]]

---

[[1needlelog]][[3needlelog]]

---

Posts

: 3481

---

Tue Sep 03, 2019 7:35 am
That Gorilla devil fruit eater was obviously me.
Approved!
Draconia Sanguis wrote:

Draconia Sanguis

Basic Character InformationStarting Bonus:

Jurassic Bark. |

[Starting Bonus Roll]First Name:

Draconia

Middle Name/Initial:

Invictoria

Last Name:

Sanguis

Epithet:

Kamehime (Tortoise Princess)

Age:

23

Gender:

Female

Race:

Oni

Faction:

Marine

Affiliation:

World Government

Position:

Commodore

Profession:

Apprehensions

-------------------------------------------------

Physical AppearanceHeight:

9' 0" in

Weight:

259 lbs

Hair Style:

Ginger, Long.

Hair Color:

Blazing Red.

Eye Color:

Reddish Blue, with tinges cyan.

Scars:

None

Clothing and Accessories:

She wears the standard Marine jacket over her bodysuit. She has numerous spiked cuffs, a spiked collar, earrings, and a hairpin that is shaped like a crown that keeps her hair upwards.  When not on duty she wears a little black dress and spiked heels. She always keeps her flame gauntlets and bodysuit on when on duty, which round out her outfit.

Detailed Description:

She is muscular as hell and is fit like an gymnastic Olympian, though one could argue that her proportions are also as sleek as an Olympic swimmer. She is proportionate despite her massive size and it is clear her size is due to the devil fruit opposed to her being naturally as talk as she is.

-------------------------------------------------

The PastMain Traits:

Unstable, Merciless, Courageous, Empathetic, Lascivious, Volatile.

Likes:

Comedy, Fighting, Panties, Sake, Gambling, Her boyfriend & girlfriend.

Dislikes:

Pirates, Cowards, Prudence, Cheating, Betrayal, Aristocrats.

Hometown:

Kinoko Ōkoku [Uncharted Island]

Personality:

Draconia is a psychopath due to the constant abuse and near-death experience that she had when she was growing up. She has a strong accent that sounds like a heavy mixture of both Irish and Jamaican, combining into the natural language of her kingdom in which she was born. She is someone that is quick to hurt others and feels little empathy for others due to the fact that her own sense of justice has been skewed by witnessing countless injustices. She is used to being betrayed and uses a great deal of vices to cope with the darkness that has showcased itself in her mind. She is not a kind woman at all and is prone to anger and mockery if it suits her mood. She is the kind of person whom shows a dangerous amount of courage in the face of danger, due to almost dying once already. She is completely and utterly asinine when handling others and she completely hates Pirates due to the fact that her biggest rival sold her country out to swashbucklers long ago.

Draconia's aggressive behavior is worse due to being both a carnivorous zoan and an ancient zoan user. She seemingly thinks highly of herself despite the fact that she has not done anything truly of note. She is a pyromaniac, obsessed with fire since she was hurled into the depths of an active volcano for an undisclosed amount of time. As a result her speech pattern was broken and she exaggerates her national language quite badly. She also showcases a morbid sense of humor with her anger as the catalyst to tapping into the sheer depths of her power. She is a scion of rage made incarnate and believes through anger clarity can be achieved. She acts in a manner of debased pirate, but follows the laws to the letter only abusing her power when it is clearly capable of being allotted. She cares little for Celestial Dragons, the Yonko, or individuals whom showcase hesitation or cowardice. She is for all intents and purposes a beast. A true chaotic neutral if there ever was one. She can be wild, but is reigned in easily by superiors. She wants to join CP0.

History:



Raised to be the epitome of class and refinement, young Draconia was heir to the throne of Kinoko Ōkoku without question, despite the fact that she was born from an unwanted marriage. The Kingdom in which she hailed from was led by a false ruler, a man of wicked intent whom came from a far away land known as Onigashima and it was only when he was driven away from the island by a knight baring a gorilla devil fruit that the people in her homeland were freed. Though both her father and the knight were both slain in the ensuing battle, many clamored for the Queen to remarry so that she could legitimize the throne under an heir that didn't have tainted blood. She was a broken woman, however, and found herself unable to continue on, taking her own life after the years of torture she endured. As a result, a distant family took power after a strong war in the country, leaving it's new rulers as the de facto heads of the nation. Draconia was cast aside, but allowed to live in the castle as a lady in waiting towards the new rulers.

This distant cousin would marry and die off, leaving his wife and step-daughter as the ruling monarchy within the kingdom shortly after. This unrelated daughter, known as Princess Nectarine, was a sadistic and tyrannical woman whom both abused and treated Draconia like a slave, more so than a lady in waiting. She displayed herself in a kind and compassionate way to the kingdom's people and endured herself to two local heroes whom doted on her. Using her womanly wiles she would take these two heroes and turn them into her personal bodyguard, using her charms to convince the pair to do horrible things in her name while under the guise of justice. Perverting the meaning of the word. It didn't take long before Draconia's displeasure was made known. She tried to become outspoken to the new princess, but ended up embarrassing her instead. It didn't take long before the princess wanted revenge, and she convinced her two champions, one clad in red and his twin brother clad in green, to dispose of the brutish female for good.

That night they set themselves upon her, tossing her towards the mouth of an inactive volcano, assuming that her body fell directly into the pit itself, but the female had lucked out. Landing on one of the inner ridges, body sprawled out and broken. She was unable to move, drinking water from the rain and eating any bugs and insects that happened to get too close to her from inside of the pit itself. That was, at least, until a small orb fell from above, landing near her mouth. Unable to keep herself sane, she dove onto the fruit and found herself unable to care that her stomach churned as she devoured the fruit. Hours passed...and what little motor function she had seemingly came back to her in due time. She was able to use her newfound strength to rise up...learning how to use her facilities again. Soon she climbed out of the pit, looking out over the Kingdom that spurned her. She must have been gone for months...because what Kingdom was there was ultimately destroyed. Replaced by a white flag with two words placed upon it. World Government.

When she found herself returning to town, she learned that the Princess had been gaining a small sum by using the Kingdom as her own little piggy bank. Letting pirates pay a sum to house their treasures here and letting them all have the run of the place. Those Toads disgusted Draconia and knowing that she had no place here anymore, she went to see if she could confront the princess in her cell. To her surprise, the men stationed there had been killed, maimed or otherwise gored. Reaching a nearby guard, she quested the man as life faded from his eyes. He told her that a man clad in purple and one in yellow had sprung the princess and her two cohorts out of her cell. She knew what this meant. If the princess had fled...Draconia would have to hunt her down. But she had no means of doing such a thing. Knowing that she could not let that bitch survive, she did the only thing that she could do. She sought out a recruiter and made it clear she was willing to work hard if it meant she could serve the liberators of her home country. Impressed by her gumption, she was added in.

She showed her dedication as she rose through the ranks over the coming years. Her feats and victories over pirates and her service to her captains and commanders made it clear that this exceptionally large female was not someone to merely overlook. She spent a great deal of time working any job they gave her, with the drive of revenge being her soul purpose of going forward. She didn't rise up the ranks like a prodigy, but she had the training and favor of many above her, whom saw her potential. Her devil fruit and race helped, of course, and her loyalty and dutiful nature showcased that she was to be trusted. Soon she would be promoted to a commodore. Knowing that the mission before her was not meant to be easy, she gathered her wits and headed out to see the truth of the world from her own eyes. With signs of that evil woman finally showing it's head to her again, she found herself moving to be stationed at Las Camp. It would be here that her adventure into the new world would start. As certain rumblings would indicate that a certain something was going to be happening soon enough. A fact that caused the female to be apprehensive at best.



-------------------------------------------------
Permissions in this forum:
You
cannot
reply to topics in this forum