Miki Satow




Name

: Miki Satow


Epithet

: Sugar Baby


Age

: 21


Height

: 5'3 (163 cm)


Weight

: 110 lbs (49kg)


Species

: Human


Faction

: Former-Pirate, Civilian.


Haki Level

: 0

---

Hitpoints (HP)

: 125


Attack (ATK)

: 60


Defense (DEF)

: 50


Reflex (RX)

: 50


Willpower (WP)

: 50

---

Level

: 1


Experience Points

: 100


Berries

: 5,050,000

---

[[dulcetvirtuoso]]

---

[[atkt1]][[atkt1]]

---

Posts

: 15

---

Sat Dec 18, 2021 4:26 pm
Lips like licorice, Tongue like candy
SWEET AS
S U G A R

Miki sighed as she finally walked off the ship; she had paid passage way for a quick trip to Notice; she required some things that simply were not within her grasp in her home town. She wanted to redecorate the brothel; and ensure that it's grand opening would be the success that her mother wanted it to have. Miki stretched her body as she stood just off the docks; her emerald eyes scanning across the bustling tourist town; she already seen so many shops that she would want to visit; but knew that she didn't have many berries left… She was unfortunate in that; her mother didn't leave her any, and what she had made during her life as a pirate was minimal. She took a glance back towards the many different ships on the dock; she did miss her old life… Traveling the seas, the fights; the glory… It had become something all to amazing for her; but after she got word of her mothers sickness; she had her former crew turn back.

Only to miss her mother on her death bed; and losing the chance to speak with her one last time. She was given letters and information however; information she wasn't sure what to do with… She had shrugged it off; not wanting to think about past issues in the present for the moment. She would glance back towards the town; her eyes scanning once again; she thought it interesting that the town was placed just before a large cliff; but at the same time… She didn't' really know what laid beyond that cliff and was sure that she didn't want to know.

As Miki brushed a piece of her hair back behind her ear she would begin her trek through the town; she needed to gather different linens for the rooms in the brothel; the current ones were out of date and musty; she required something with more flavour; and she wasn't able to find something of her tastes within Flevance, as she came upon the first shop; the small woman would enter; the shop owner also being a woman gasped towards Miki's appearance, it was true that Miki would seem… Extremely out of place; as per her usually garments; she was also in Notice to act as advertisement of sorts. Her attire was simple, but elegant a long black sheer cloak of sorts, with a bikini top, tightly hugging her curves, along with bikini bottoms, similar to the top; she had jewels throughout her hair and larger pieces of jewellery wrapped around her waist; the tings they would make as she walked.

Miki would appear quite exotic; her long raven hair curled in pieces, up in others; her slim but toned body along with her curves that stuck out like a sore thumb; she was an interesting figure to look at; and she got many stares as she made her way through the shops. She knew that her attire wasn't as different as to some other female pirates; but it was something strange for regular 'towns' folk. Even the people of Flevance didn't enjoy Miki or her brothel. As the day was slowly turning into dust; Miki made note of the time; she had completely lost tract of her situation, and was nearly out of berries. She wouldn't be able to afford a hotel, and she had already paid for passage back to Flevance… She gathered the remainder of her bags and quickly took off for the docks.

Once Miki arrived, she would take note that the ship that was suppose to return her home was no longer there; a sigh as she would quick a near by pebble in frustration. "Now how will I get home? Stupid marines." She would mutter, closing her eyes as she starred up into the night sky.

---

Post WC 638
Total WC 638


Excuse me miss but can I get you out your panties
________________________________________________________
Brood

---

[tracker=/t196-brood-xaldin-bach#715]


Name

: Brood X. Bach


Epithet

: Mushiba (Tooth-Decay)


Age

: 28


Height

: 9'2"


Weight

: 490 lbs


Species

: Human


Faction

: Pirate


World Position

: Shichibukai (Future)


Alliance

: Nox Prime


Crew

: P.T.S.D.


Ship

: The Dead Air


Crew Role

: Chairperson

---

Devil Fruit

: Amai Amai no Mi

---

Haki Level

: 7

---

[[kenbunspec]]

---

Hitpoints (HP)

: 380


Attack (ATK)

: 525


Defense (DEF)

: 350


Reflex (RX)

: 510


Willpower (WP)

: 400

---

Level

: 70


Experience Points

: 7039


Bounty

: [ber=r] 365,000,000


Quality Score

: S


Income Bonus

: +0.20


Shop Discount

: -25%


Berries

: [ber] 76,550,000

---

[[baneoftheweak]][[riseandshine]][[childofdestiny]]
[[punchoutguru]][[barrelcrazed]]

---

[[rxt6_df]][[rxt6]][[rxt6]][[rxt5]]

---

Posts

: 336

---

Sat May 28, 2022 10:48 pm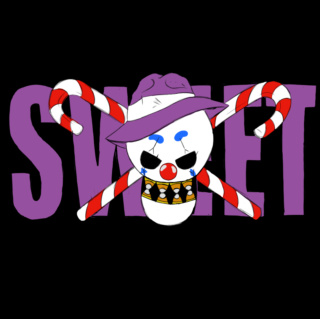 OOC: (-eh is a cough; -ee is a weeze)


In this world, Brood was nowhere near being considered a tall individual, but he was rather muscular and fit. His frame allowed him to look far more imposing than most people that he interacted with. Especially since he packed one hell of a punch with all that destructive power he was lugging around in those arms of his.

His smaller size, standing at six foot three inches tall, was enough to allow him to blend in with normal citizens so long as he kept himself completely hidden away. Which, in this case, he was. With a dark brown, ragged, cloak hanging off his broad shoulders and his white dreadlocks obscuring his face from the side.

His wanted poster was taken back when he had shorter hair and a perm, so he came across very differently in those old times to what he did now. But it didn't matter. The rest of his ensemble, which was hidden away underneath his cloak, were dead giveaways to his identity, if one looked hard enough. But for the most part, the populace had chosen to ignore him. Which was good, since he wanted to make sure he didn't go around running the plans that he had set forth with.

He wore his black leather coat with the candy spikes jetting out along the shoulders and arms, his black leather pants, and the candy spiked mask which sat on his face.

His intense eyes fixated on nothing in particular, but it'd be hard to realize this the moment that he came into view. For it would appear that he was looking directly at Miki. As though he knew her and was approaching her due to their bad blood.

But in truth he was busy thinking about all of the logistical points that would need to be done in order to conquer this fucking island. He was beyond sure that shit was going to be hard to accomplish at this rate. Especially if he only had this bumbling crew of buffoons running around doing shit on his behalf. Like… seriously… Kabe and Molly doing recruitment efforts? He just hoped they realized how important this shit was for him.

He'd approach the woman, finally noticing her face before he'd begin to drool as he talked. But thanks to his mask, she couldn't see this and due to the properties of his mask, all it did was cause the mask to hum and glow gently as it absorbed his spit, converting it into the crystals themselves.

"....Hmm, tell me how to get to city hall. Or else." Right off the bat with the threats.

Classic Brood.



{ 440 | 440 | ??? }



________________________________________________________
Miki Satow




Name

: Miki Satow


Epithet

: Sugar Baby


Age

: 21


Height

: 5'3 (163 cm)


Weight

: 110 lbs (49kg)


Species

: Human


Faction

: Former-Pirate, Civilian.


Haki Level

: 0

---

Hitpoints (HP)

: 125


Attack (ATK)

: 60


Defense (DEF)

: 50


Reflex (RX)

: 50


Willpower (WP)

: 50

---

Level

: 1


Experience Points

: 100


Berries

: 5,050,000

---

[[dulcetvirtuoso]]

---

[[atkt1]][[atkt1]]

---

Posts

: 15

---

Thu Jun 02, 2022 1:35 am
Lips like licorice, Tongue like candy
SWEET AS
S U G A R

Miki didn't noticed the man heading in her direction, her eyes closed as her face was raised to the night sky; basking in the moon light for the few moments of peace she had. Nor would she had ever guessed that anyone was approaching; instead she remained lost in her thoughts, mostly about how she truly hated marines.

Alas, it was her own fault for trusting them — let alone getting herself stuck in the situation she was in now. That was; until she heard his voice. 'Tell me how to get to city hall… or else.' The voice… How strange it sounded; almost as if someone was speaking to her… But who in the world would be at the docks… This late, let alone asking for city hall? The raven haired woman would take a short but deep breath as she glanced over to the side, peaking one eye open to see if the voice was in her head; or actually physically beside her.

"….."

Miki stood, only for a few moments; her head cocked and one eye open, scanning the man who stood beside her…

A strange looking man…

Miki pressed her lips together, the last words echoing inside of her head… 'Or else.' Or else what? Who the hell did this brute think he was? As a former pirate, Miki was all but familiar with the attitudes people could gain while out at sea; but utter what could be taken as a threat, to an innocent… Well, perhaps not so innocent, but for all this grown candy cane man knew; she could very well be innocent — woman; standing alone; with luggage on the docks; minding her own damn business.

With a sigh, she would turn to face him, however 'facing' anyone would be an extremely difficult task, given Miki's own short stature. Starring for just a moment, taking note of his… strangely chosen attire; dressed in all leather, candy spikes on his shoulders as if he was some thug. And a strange candy spiked mask to go along with the jack and plain black leather pants.

She couldn't help but laugh internally towards the choice of clothing; but also feel ashamed of the fact she didn't hear the rubbing leather approach her.

"I do apologize, Sir." She would pause momentarily as laughter needed to be held back; "But I cannot assist you in your mission of finding city hall. For I am not from this… Awful place." Sue shuttered at the thought of having to live here. The rude looks and comments made, although even back in her home; she had to deal with similar remarks and comments… They just didn't seem to bug her as much.

Pressing her tongue against the roof of f her mouth as she contemplated her next move, she realized that — of course — he wasn't from here if he was inquiring about a city hall… Which meant he came on a ship, and the way he held himself, as he stood before and the way he so needlessly threatened her; that he had to either be a first mate or Captain of a ship… Which meant; if her cards here were played correctly, she just might be able to return back to her home and her brothel.

'Click'

A small sound, from her tongue being suctioned to the roof of her mouth as she thought about how to play this game properly…

"I suppose I'll have to find out what this 'Or Else' thing will be…" She smirked at the man, her emerald eyes shining an almost eerily glow in the bright moon light; "but I'm sure I could assist you in finding it… I have nothing better to do, anyway."


---

Post WC 622
Total WC 1260


Excuse me miss but can I get you out your panties
________________________________________________________
Permissions in this forum:
You
cannot
reply to topics in this forum