Xavier Drake

[tracker=/t2497-tracker-xavier-drake#16007]


Name

: Xavier Drake


Epithet

: Jaded Dragon • Shigeki


Age

: 24


Height

: 8' 1" [246 cm]


Weight

: 319 lbs [143 kg]


Species

: Human


Faction

: Bounty Hunters


Crew Role

: Cook

---

Haki Level

: 0

---

Hitpoints (HP)

: 135


Attack (ATK)

: 45


Defense (DEF)

: 40


Reflex (RX)

: 70


Willpower (WP)

: 70

---

Level

: 1


Experience Points

: 100


Berries

: [ber] 50,000

---

[[hardboiled]]

---

[[atkt1]][[rxt1]]

---

Posts

: 12

---

Tue Nov 08, 2022 6:24 pm
Shigeki Shigeki no Mi
---
Devil Fruit:
Shigeki Shigeki no Mi [ 刺激 刺激 の実 ]
"Stimuli Stimuli Fruit"
Devil Fruit Type:
Paramecia
Devil Fruit Appearance:
Has an akin similarity to an
osage orange
aka the brain fruit.
Devil Fruit Description:
The Shigeki Shigeki no Mi is a paramecia type Devil Fruit that grants the user the ability to decrease and increase the electrical impulses/stimuli within their body and the body of others, granting them enhanced reflexes, senses & emotional control, effectively turning them into a
Stimulation Human
.
Due to their ability to control the electrical impulses/stimuli sent to their brain and throughout the body, it virtually grants the user near perfect control over their own body. They can perfectly control their emotions by reducing/increasing specific hormone stimuli in their body, increase their reflexes by increasing the speed of synapses, remove pain by dulling pain receptors, increase strength & speed by increasing adrenaline and increase senses by increasing their bodies sensory stimuli.
The user can similiar use their powers on others once the person have some of sensory interaction with them (sight, touch or even the sound of their voice).
Fighting Style:
Gokudō Kenjutsu [ 極道 剣術 ]
"Extreme Path Swordsmanship"
Weapon Utilization:
Sword
Description:
Gokudō Kenjutsu is a style of swordsmanship utilized by the Yakuza samurai of Wano. While primarily a form of combat that emphasizes swordsmanship, unlike traditional Samurai the style is not limited by rules, hence why it's called the "Extreme Path". Yakuza swordsmen are taught to use any and all things they can to their advantage, having been taught how to fight with common weapons as well as their own sword. In Xavier's case, having eaten the Stim-Stim fruit, and preferring not to resort to drawing blood unless he really needs to, he utilizes his devil fruit in combat while only occasionally drawing his sword.
Another important aspect of Xavier's way of fighting, having been raised by the Yakuza who utilize fear as a weapon, is he tends invoke intimidation through bluffs. Even when he's losing, he constantly bluffs and pretends like he isn't trying in order to make people think he's stronger than he actually is, his devil fruit especially helps with this as he can make opponents feel intense pain with even simple attacks. Once a person falls for his bluffs, even if he's winning, he would usually abandon a fight altogether, unless he has an actual reason to fight.
Toggled and Passive Abilities:
Gōken [ 豪剣 ] "Strong Sword"
Xavier switches his swordsmanship style to emphasize power over speed, significantly increasing his attack power. Since he usually tries to avoid a fight unless necessary, he rarely uses this form since when he does, he tends to focus much more on offense, with his attacks becoming much more relentless, rarely straying from the offensive.
[ +20% ATK • -20% WP ]

Jūken [ 柔剣 ] "Gentle Sword"
Xavier switches his swordsmanship style to emphasize speed over power, significantly increasing his speed. While using this form he's primarily passive, focusing on defense and on sensing his/her environment, then releases it quickly in response to danger. Overall, in this form her fights not with power or anger, but with talent, skills, and wit
[ +20% RFX • -20%% WP ]

Enhanced Senses
Xavier is capable of using his fruit to enhance his smell, hearing and sight to superhuman levels.

Emotional Control
Xavier's fruit grants him perfect control over his own emotions, enabling him to "switch" them on and off at will. He can similarly lessen/heightened emotions in others (NPCs).

Electric Presence
While the fruit doesn't actually manipulate lightning, as a product of its control of electrical impulses it causes Xavier's body to generate lightning whenever used. However, this is purely aesthetic.

---
Techniques
---
---
________________________________________________________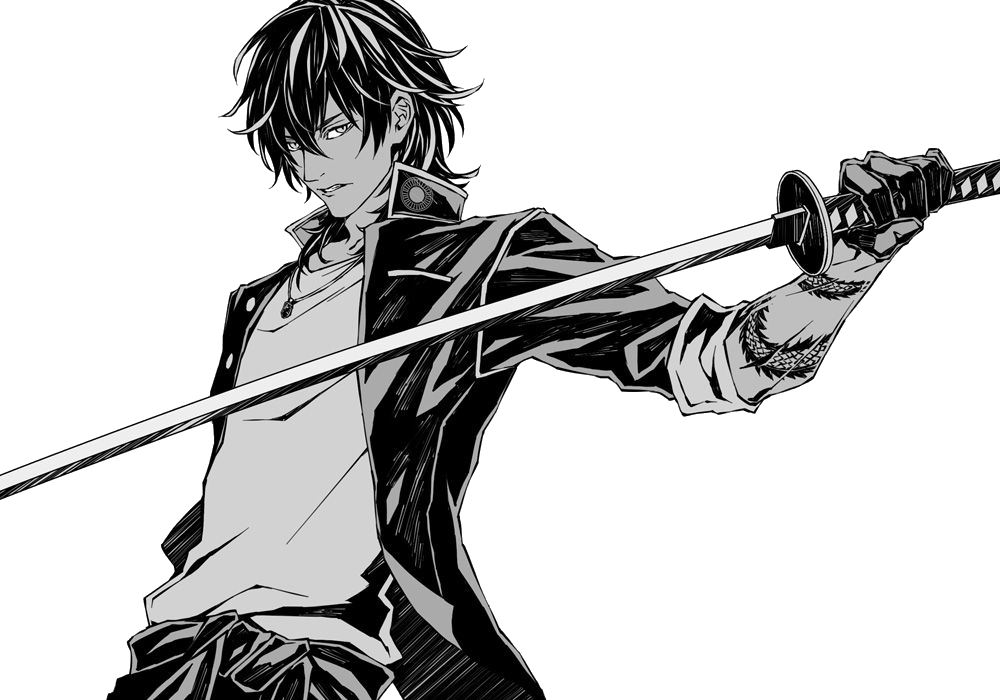 Gray

---

[tracker=/t131-tracker-gray-starks#504]


Name

: Gray Starks


Epithet

: The Conqueror / Black Fist


Age

: 49


Height

: 10'2" (310 cm)


Weight

: 1043 lbs (473 kg)


Species

: Human Cyborg


Faction

: Pirate


World Position

: Lurking Legend (Former Yonkou)


Crew

: Black Fist Pirates (Destroyed)


Ship

: Sangria's Vane (Destroyed)


Crew Role

: Captain (Former)

---

Devil Fruit

: Pressure-Pressure Fruit

---

Haki Level

: 10

---

[[haoasc]][[busoasc]][[kenbunasc]]

---

Hitpoints (HP)

: 750


Attack (ATK)

: 800


Defense (DEF)

: 600


Reflex (RX)

: 715


Willpower (WP)

: 650

---

Level

: 100


Prestige

: 8


Experience Points

: 18000


Bounty

: [ber=r] 5,000,000,000


EXP Bonus

: +0.20 (to all allies)


Income Bonus

: +0.20


Shop Discount

: -30%


Berries

: [ber] 25,000,000,000

---

[[strollingdeath]][[baneoftheweak]][[riseandshine]][[childofdestiny]][[freakofnature]]
[[punchoutguru]][[dulcetvirtuoso]]

---

[[atkt6_sp]][[deft6]][[rxt6]][[wpt6]]

---

[[1needlelog]][[3needlelog]]

---

Posts

: 3481

---

Wed Nov 09, 2022 8:11 am
Nice job getting this done correctly on your first try! I did change one spot where you said "STR" instead of "ATK".
Approved!
Xavier Drake wrote:

Shigeki Shigeki no Mi

---

Devil Fruit:

Shigeki Shigeki no Mi [ 刺激 刺激 の実 ]

"Stimuli Stimuli Fruit"Devil Fruit Type:

Paramecia

Devil Fruit Appearance:

Has an akin similarity to an

osage orange

aka the brain fruit.

Devil Fruit Description:

The Shigeki Shigeki no Mi is a paramecia type Devil Fruit that grants the user the ability to decrease and increase the electrical impulses/stimuli within their body and the body of others, granting them enhanced reflexes, senses & emotional control, effectively turning them into a

Stimulation Human

.

Due to their ability to control the electrical impulses/stimuli sent to their brain and throughout the body, it virtually grants the user near perfect control over their own body. They can perfectly control their emotions by reducing/increasing specific hormone stimuli in their body, increase their reflexes by increasing the speed of synapses, remove pain by dulling pain receptors, increase strength & speed by increasing adrenaline and increase senses by increasing their bodies sensory stimuli.

The user can similiar use their powers on others once the person have some of sensory interaction with them (sight, touch or even the sound of their voice).

Fighting Style:

Gokudō Kenjutsu [ 極道 剣術 ]

"Extreme Path Swordsmanship"Weapon Utilization:

Sword

Description:

Gokudō Kenjutsu is a style of swordsmanship utilized by the Yakuza samurai of Wano. While primarily a form of combat that emphasizes swordsmanship, unlike traditional Samurai the style is not limited by rules, hence why it's called the "Extreme Path". Yakuza swordsmen are taught to use any and all things they can to their advantage, having been taught how to fight with common weapons as well as their own sword. In Xavier's case, having eaten the Stim-Stim fruit, and preferring not to resort to drawing blood unless he really needs to, he utilizes his devil fruit in combat while only occasionally drawing his sword.

Another important aspect of Xavier's way of fighting, having been raised by the Yakuza who utilize fear as a weapon, is he tends invoke intimidation through bluffs. Even when he's losing, he constantly bluffs and pretends like he isn't trying in order to make people think he's stronger than he actually is, his devil fruit especially helps with this as he can make opponents feel intense pain with even simple attacks. Once a person falls for his bluffs, even if he's winning, he would usually abandon a fight altogether, unless he has an actual reason to fight.

Toggled and Passive Abilities:
Gōken [ 豪剣 ] "Strong Sword"
Xavier switches his swordsmanship style to emphasize power over speed, significantly increasing his attack power. Since he usually tries to avoid a fight unless necessary, he rarely uses this form since when he does, he tends to focus much more on offense, with his attacks becoming much more relentless, rarely straying from the offensive.
[ +20% ATK • -20% WP ]

Jūken [ 柔剣 ] "Gentle Sword"
Xavier switches his swordsmanship style to emphasize speed over power, significantly increasing his speed. While using this form he's primarily passive, focusing on defense and on sensing his/her environment, then releases it quickly in response to danger. Overall, in this form her fights not with power or anger, but with talent, skills, and wit
[ +20% RFX • -20%% WP ]

Enhanced Senses
Xavier is capable of using his fruit to enhance his smell, hearing and sight to superhuman levels.

Emotional Control
Xavier's fruit grants him perfect control over his own emotions, enabling him to "switch" them on and off at will. He can similarly lessen/heightened emotions in others (NPCs).

Electric Presence
While the fruit doesn't actually manipulate lightning, as a product of its control of electrical impulses it causes Xavier's body to generate lightning whenever used. However, this is purely aesthetic.


---


Techniques


---









---



Permissions in this forum:
You
cannot
reply to topics in this forum