Apollo's Pompokolin
---
Name:
Apollo's Pompokolin, a.k.a. Pompoko Pirates
Faction:
Pirates
Number of Members:
162 (4 players, 8 NPCs, 150 nameless grunts)
Strength:
50
---
Insignia/Jolly Roger: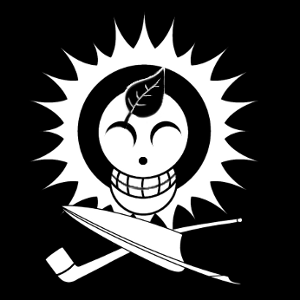 Motive:
The short answer? Seeing the world, experiencing new things, taking anything of value that isn't nailed to the wall (and even stuff that is if it's valuable enough), all because it's there.
In Laurel's words, the Apollo's Pompokolin (sometimes called the Pompoko Pirates for shorthand and/or tradition) are a crew of pirates dedicated to unearthing every bit of truth about the world and sharing it with even the lowliest of souls with a festive flair. In her mind, it is a crew that was founded with the hopes of better understanding the world, its geography, its history, and the cultures of the past and present. As such, its ranks are built largely of people of near-insatiable curiosity and a tolerance for kleptomania.
One of Apollo's Pompokolin's strongest qualities is its vast and varied resources. As a pirate crew focused primarily on the pursuit of knowledge and pioneering unknown lands, its greatest beneficiaries are other explorers, neutral or Revolutionaries, with whom it freely shares its records. The Xu Fu, in particular, has been lauded (by its own crew, at least) as one of the most robust and multifarious libraries in the world, covering a range of subjects both academic and sundry.
The Void Century and related topics are, of course, especial interest, which is fueled further in no small amount by those who want to find One Piece and learn what, exactly, One Piece actually
is.
These two factors are, currently, the two main driving forces for the Pompoko Pirates' endeavors.
---
Ship:
Xu Fu [
Link
]
Captain:
Laurel O'Halloran
First Mate:
OPEN
Navigator:
Mazin Botros
Shipwright:
Sado *
Doctor:
Mercy *
Cook:
Mercy *(YOU ALMOST KILLED US, WOMAN)
OPEN
Engineer:
OPEN
Archivist:
Sleepy
Musician:
Whisper *
Cabin Steward:
Whiskeyjack *
Klabautermann:
Darling
* The NPCs holding these positions (
listed in detail here
) are simply there as placeholders. Anyone who wants those positions, or doesn't mind working alongside the NPCs, do let me know!
Moreover, please feel free to nominate yourself for non-traditional roles in this crew; as mentioned in Motives, we're intended to cater to explorers and eggheads alike, and would love to have multiple people pursuing different fields of study to reflect that.
---