Kazu Hirohara
---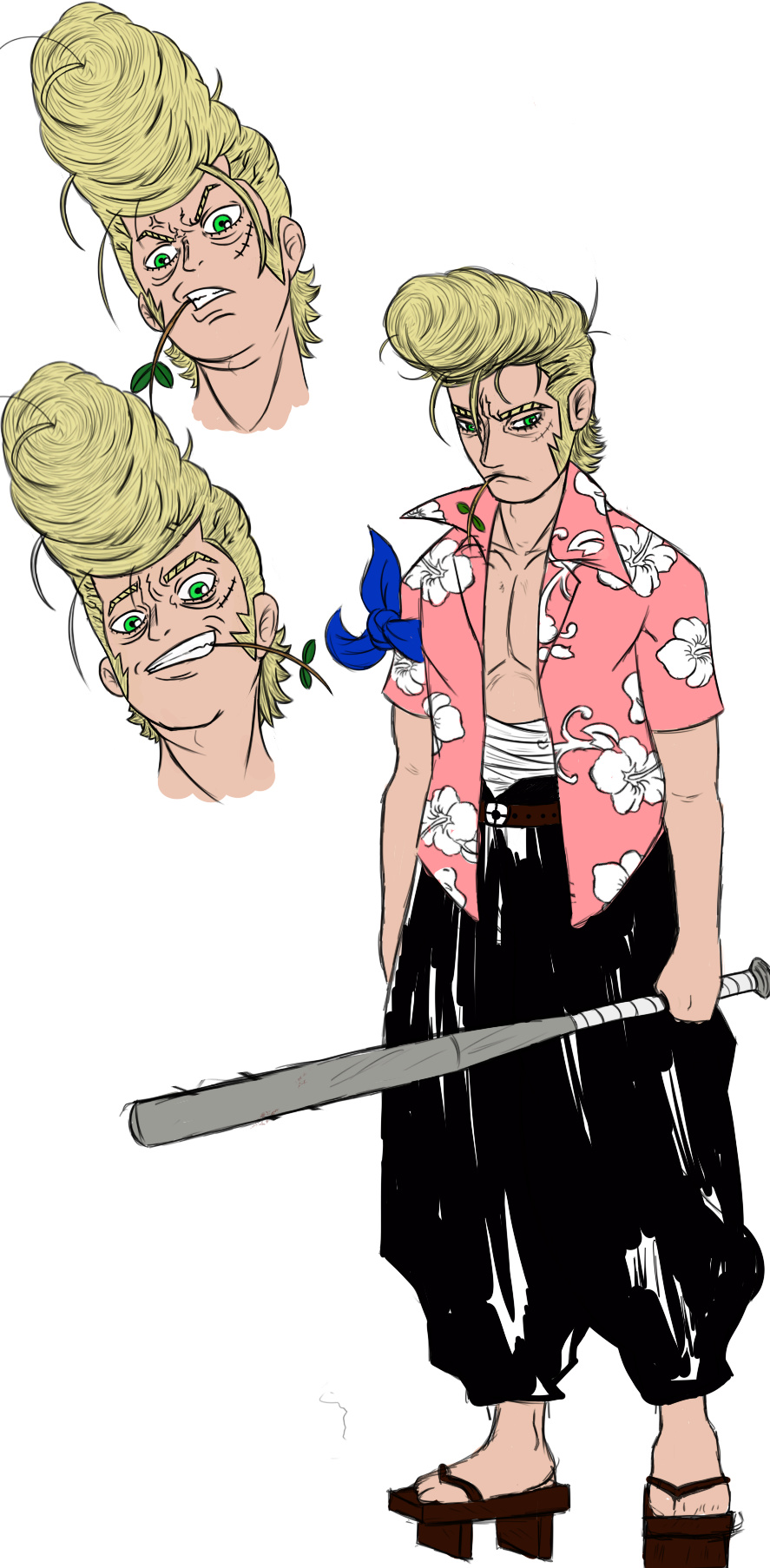 Before marines Kazu
Spoiler:
Basic Character Information
---
Starting Bonus:
Pocket Change
First Name:
Kazu
Middle Name/Initial:
Last Name:
Hirohara
Epithet:
"The Deliquent" ; "Rockabilly Kazu"
Age:
17
Gender:
Male
Race:
Human
Faction:
Marines
Profession:
---
Physical Appearance
---
Height:
5'6" (before marines) 5'10" (after marines)
Weight:
120 (before marines) 190 (after marines)
Hair Style:
medium messy (before marines) Pompadour (after marines)
Hair Color:
Brown (before marines) Blonde (after marines)
Eye Color:
green
Scars:
Facial scar under left eye
Clothing and Accessories:
Kazu has adopted the full delinquent persona after training with his master. This extends to his style of dress, wearing an unbuttoned Hawaiian print shirt, geta with no socks, and a stereotypical sarashi.
Description:
Prior to joining the marines and going through a strict training regiment, Kazu was a good for nothing kid with no discernible traits aside from bright green eyes.
Since adopting his new delinquent persona, Kazu bleached his hair and has taken to styling it into an outlandishly awesome pompadour of utter magnificence. With his body developing into that of a warrior after an intense training montage, being described as a "late bloomer" by his teacher.
Kazu has bright green eyes and slightly tan skin with a small scar on his left cheekbone.
---
The Past
---
Main Traits:
Loud, Brash, Honorable, Impulsive, Reckless, Flashy, Cocky
Likes:
Pompadours, Honorable fights, Manly moments, Baseball, Comrades, Drinking
Dislikes:
Killing, Unmanly things, His hair being touched, Responsibility
Unique laugh:
" Rahahhahahaha"
Hometown:
Baterilla, South Blue ; Kazu spent his youth on the beaches of Baterilla, frolicking in the waves and enjoying the overall peaceful atmosphere. Until one day he snuck aboard a marine ship docked for resupply in the nearby harbor, forever changing his life.
Personality:
After being influenced by the marine who saved his life, Kazu transformed from a meek kid with no voice into the honorable delinquent he is today. Bound by a strict, albeit somewhat strange personal moral code, Kazu always stands up for what he thinks is right. Though, he will almost certainly go about fixing it the wrong way. Short tempered and impulsive by nature, along with not being the sharpest tool in the shed, the young man rushes into danger halfcocked and ready to answer any question with a swift knuckle sandwich.
He comes off as merciless and cruel, finding enjoyment in intimidating those who are afraid of him. However, underneath of his rough exterior, Kazu has a heart of gold and deeply cares for his comrades and the lives of innocents and pirates alike.
Kazu has a tendency to cry at thing he considers ''overly manly'', also highly respecting those he deems manly enough.
History: